Boko Haram Terrorists Seized Hong Saturday, Burn Police Stations, Scores Killed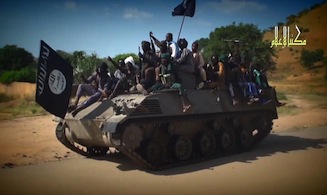 Boko Haram terrorists on Saturday seized Hong, which is the administrative headquarters of Hong Local Government Area of Adamawa State. This followed closely on the heels of the recent rout of the insurgents in Mubi by the combined efforts of local hunters and civilian JTF, which resulted in killing several insurgents and chasing them out of Mubi and Mahia.
NewsWireNGR had reported that scores of Boko Haram fighters on Thursday invaded two towns in Adamawa state after hunters and civilian vigilantes reportedly ousted them from Mubi town, residents told have said.
The Islamists raided Hong and Gombi, some 100 kilometres (62.5 miles) from the state capital, Yola, after they were pushed out of the commercial hub of Mubi, which they seized two weeks ago.
Confirming the attack on the area Saturday, a former minister of state for health and later for foreign affairs, Dr. Aliyu Idi Hong, an indigene of the area, told journalists in the state capital Yola that the insurgents set a police station ablaze but could not state the exact number of casualties, as the details still remained sketchy.
Dr. Hong disclosed that the sect members had attacked two villages in Hong Local Government area a few days earlier, killing at least five persons.
A local resident also revealed that the militants had attacked the residence of a retired general near Hong. Thus, at about 2pm yesterday, the insurgents were reported to have taken control of Hong, even as hopeful local residents said the local hunters had been alerted to come to the rescue of the besieged town.
Even fleeing residents of Hong echoed their optimism that their town would be delivered from the clutches of the Boko Haram insurgents before sunset by the hunters.