Breaking: Bomb Explosion Kills Scores Of Muslims In Potiskum, Yobe State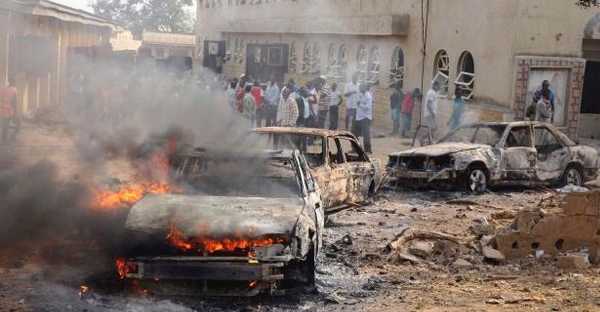 A suicide bomber has detonated an explosive device killing scores of Muslim worshippers in Potiskum the Yobe State capital.
The Yobe State Commissioner of Police, Mr. Markus Danladi, who confirmed the incident, said the suicide bomber took advantage of the procession to carry out his dastardly act but casualty figure was yet to be known.
"Yes a suicide bomber was among the Shia group and detonated his explosive device, killing members of the group, but I am still on my way to the scene of the incident" Commissioner Danladi said.
The entire area has presently been condoned off by security men as residents remain in their various locations to avoid being victims of any attack.
Eyewitness account say the explosion went off when members of the Muslim brotherhood, the Shia, were on procession in Potiskum metropolis in observance of the 10th Day of Muharram 1436 celebration when the explosion went off among the worshippers killing scores of those in the procession.
It was also gathered that the bomber was among the worshippers when the explosion went off around 11: 15 on Monday morning
Residents said that several followers of the group, particularly women and children, were killed by the explosion as security forces have presently cleared off the area to prevent further attack.