Nigerian Oil Workers [NUPENG & PENGASSAN] Give Government 14 Days Ultimatum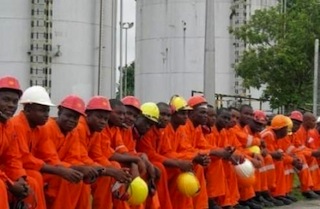 Two industrial unions in the oil and gas sector on Friday gave the Federal Government a 14-day ultimatum to intervene in the issue of victimisation of some of their colleagues by multinational oil firms and other pressing issues.
The President of NUPENG, Achese Igwe, and his PENGASSAN counterpart, Francis Johnson, gave the ultimatum midway into a joint National Executive Council meeting of the two unions in Abuja on Friday.
Johnson, while addressing newsmen, said the unions had to give the ultimatum to withdraw their services in the oil sector to call government's attention to pressing issues in the oil sector.
He said this was after exhausting all efforts to solve the issues through dialogue.
He added that the issues include the transfer and sacking of national officers of NUPENG and PENGASSAN by Total and MOBIL, casualisation of workers, violation of workers right to unionisation at the Export Free Zone in Rivers.
He said others are pipeline vandalism and oil theft, the non-passage of the Petroleum Industry Bill, the growing state of terrorism and kidnapping, non-payment of terminal benefit of workers whose appointments have been terminated and appointment inconsistencies in the NNPC.
The president of NUPENG also explained that the unions were left with no better option than to give the ultimatum to go on strike after engaging the General Managing Director of NNPC, Dr Joseph Dawha.
Igwe said the unions had met with the Minister of Petroleum Resources, Mrs Deziani Alison-Maduekwe, the State Security Service, and the management of the affected oil firms.
He added that the leadership of the unions had pleaded with them to reverse the sacking and transfer of the union leaders in their companies but without success.
Igwe also called on the National Assembly to give accelerated hearing to the Petroleum Industry Bill to ensure its passage into law as the current law establishing the NNPC had become obsolete.
He advised the Federal Government to treat the issue of dilapidated roads to the petroleum facilities with urgency.
He also urged the Federal Government to provide necessary facilities to upgrade the Petroleum Training Institute, Effurun, Delta, in consonance with its approved status as petroleum university.