South Africa Goalkeeper Senzo Meyiwa, Killed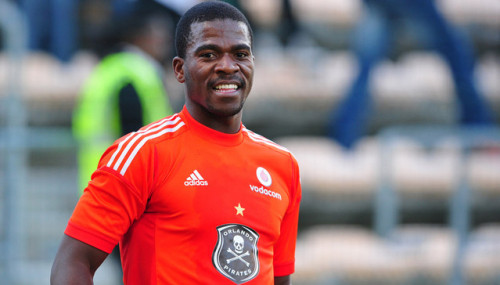 South Africa's captain and Orlando Pirates goalkeeper Senzo Meyiwa has died after being shot in the chest in Vosloorus, South Africa on Sunday night.
Meyiwa's death comes just two days after South African 800m runner Mbulaeni Mulaudzi died in a car accident, and a day after helping Pirates reach the Telkom Knockout semifinals in a 4-1 win over Ajax Cape Town.
Speculation on the incident suggests Meyiwa was shot in the chest after he refused to give up his mobile phone to his assailant, with the goalkeeper declared dead on arrival at the hospital.
Police in South Africa have stated via twitter, "We can assure all South Africans that we will do all we can to bring Meyiwa's killers to book."
South Africa Police also offered a reward of R150,000 to anyone with information leading to the arrest of the culprits, whom they believe are three in number.
Meyiwa was aged 27 and had won six caps with the South Africa national team, helping the Bafana Bafana to lead its African Cup of Nations qualifying group with 10 points and no goals conceded after four matches.
South African police said Sunday night they would reward anyone who could offer information leading to the arrest of the killers of Senso Mesiya, the Orlando Pirates captain and goalkeeper. Mesiya also keeps for the national team, Bafana Bafana.
Senzo Meyiwa was shot dead late Sunday near Johannesburg.
Lieutenant-General Solomon Makgale said Meyiwa, 27, was gunned down at a house in Vosloorus, a township about 30 kilometres south of the city, and declared dead on admission to hospital.
Police said there were seven people inside the house, including Meyiwa, when two suspects entered and another remained outside.