"Signs Of Nigeria's Break-up Are Everywhere" MASSOB Leader Tells Igbo's Not Be Afraid To Proclaim Biafra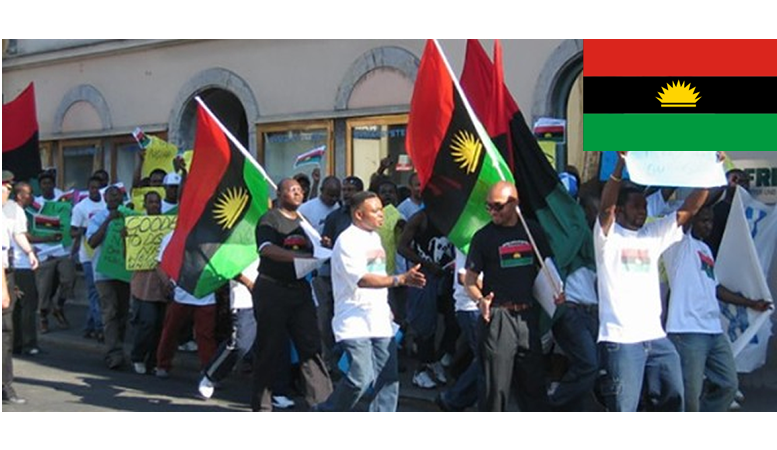 Estimated Reading Time: <1
Leader of the Movement for Actualization of Sovereign State of Biafra, MASSOB, Chief Ralph Uwazuruike has charged Igbo's not to be afraid to proclaim the name of Biafra any where they may find themselves, adding that Nigeria's breakup is imminent.
Uwazuruike who made the statements at Ojukwu's Memorial Library, in new Owerri, Imo State, further declared: "The signs of Nigeria's break-up are everywhere". In Nigeria, it is only the Igbo of Eastern Nigeria that is seeking for independence through MASSOB. While MASSOB seeks for freedom, self determination, secession and the sovereignty of Biafra, adding, South West seeks for true federalism, but in their minds they want an Oduduwa Republic". He declared.
He maintained that fear of mentioning Biafra's name in any part of the country should not arise because MASSOB is itself the fear and mere mentioning its name is enough to scare those he identified as saboteurs, adding that there is nothing whatsoever to be afraid of since an Igbo adage says that "fear does not fear anything".
He therefore charged his members to go all over the place and campaign for the independence of Biafra without violence, as contained in the popular voice of former Biafran Head of State and respected Igbo leader, Late Dim Chukwuemeka Ojukwu.
"Our brothers in the South-South seeks for resource control of what God had given them, but in their minds they want a country where their children and children's children can proudly call their own. Therefore, anybody who fights against Biafra fights against God and the people and let me assure you that a free state of Biafra will assist America in the global war against terrorism". Statement concluded.