Breaking: Immigration Service Bars 7,836 Nigerians From Travelling Abroad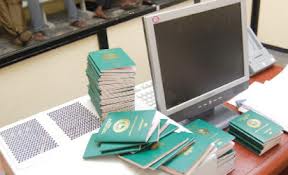 A total of 7,836 Nigerians were prevented from travelling out of the country by the Nigerian Immigration Service (NIS) within the first six months of 2014.
In addition, another set of 4,896 were deported from various countries of the world within the same period, says NIS Service Public Relations Officer, Chukwuemeka Obua today at the Media Parley of the Forum of Spokespersons of Security and Response Agencies (FOSSRA) hosted I-Nigerian Initiativein Abuja.
Obua statements made available to NewsWireNGR, states reasons why some Nigerians were refused permission to leave the country including doubts concerning their motive and conflicting travelling documents as their destination countries may decide to refuse them entry.
Obua who spoke about successes and challenges of the Service since the current Comptroller General Mr. David Paradang was appointed disclosed that to make the business of border patrolling/policing more effective, the Service has embarked on specialized training of the Border Patrol Corps and indeed the first batch of 1000 officers and men have passed out and deployed.
He pointed out that the service had procured and distributed 59 four wheel jeeps, in addition to All Terrain Vehicles (ATVs), communication gadgets and porter cabins to accommodate officers and men at their patrol bases.
The Spokesperson of the Immigration Service also stated that with the renewed border patrolling foreigners with both national identity cards and voters' card have been intercepted while human trafficking syndicates have been busted along the Nigeria/Cameroon border with Benue State. Currency traffickers and smugglers of small arms have also been intercepted in the course of border patrol operations.
He said "Deployment of additional 24 Immigration attaches to 12 new missions in furtherance of Government's Citizens Diplomacy policy thrust. The commencement of the Electronic Passenger Automated Registration System (e-PARS).
He added that through robust internal monitoring and control, continuous mob-up of irregular immigrants had been intensified where thousands of irregular immigrants have been repatriated.
He explained that NIS presently has staff strength of about 22,000 with an approval to recruit additional 5,000 every year but that since the 2012 exercise, another round of recruitment has not been done.
An attempt to recruit officers earlier this year ended in a fiasco as scores of applicants died during the exercise in different parts of the country.
He appealed to Nigerians to be patient with government as the Presidential Committee on the recruitment matter headed by the Chairman of the Federal Civil Service Commission (FCSC) was still working.
Some of the other achievements recorded by the Service since "obtaining government approval on 7th August, 2013 to rejuvenate the Border Patrol Division of the Service through the establishment of the Special Border Patrol Corps with the right training, regimentation, equipment and attitude to effectively patrol our expansive and extensive border" include creation of 30 more Control Posts (i.e recognized entry and exit points) and additional 27 Patrol Bases to cover the flanks of the Control Posts.
Giving further breakdown of figures of travellers, Obua noted that between January and June this year, total arrival and departures from Nigeria amounted to 2,287,536 made up of 1,181 departures and 1,106,109 arrivals into the country through authorises routes.
Of this figures again, 3,825 foreigners were repatriated and 19,668 foreigners refused admission into the country and1,917 Nigerians were refused admission abroad.
Meanwhile he also disclosed that NIS lost 40 officers to the activities of insurgents and terrorists during the period aside from many others who were wounded.
NIS has also taken disciplinary actions against some of its men found to have behaved below the minimum ethical standards. Ten officers had their appointments terminated, two were demoted, another four got warning letters while two were discharged and acquitted of the offences for which they were charged.