Lagos Speaker, Adeyemi Ikuforiji Picks Lagos Guber Nomination Form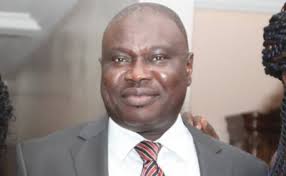 Mr Adeyemi Ikuforiji, the Speaker, Lagos State House of Assembly on Saturday picked an Expression of Interest form of his party, declaring his intention to run for the Lagos State Governorship seat.Ikuforiji, who picked the form at the All Progressives Congress (APC) state secretariat in Ikeja, told newsmen that he believed that the state deserved the best, which he was willing to give, come 2015.
"I believe very much in the future of the state and I know that the best is what the people deserve," he said.
The speaker said he had discharged his duties professionally and creditably at the legislative arm of government and he had begun a transition to the executive arm as he picked his form, reports the News Agency of Nigeria, NAN.
"It is the same best we are taking to the governor's office so that the residents will have the globally accepted government," he said. On his chances, he said that it was not his first time of contesting an election and he had no fears.
According to him, the members of the party know the best person to choose among the aspirants. As a Speaker of the House, I contested to get to the Assembly and contested to become the Speaker.
"To contest is not an issue and to go round the membership of the party; they know who is the best amongst the aspirants in the APC," he said.
Ikuforiji, however, said that he did not rule out the possibility of a consensus candidate emerging from the aspirants.
"You talk of consensus candidate, it is all part of the game; there can be consensus candidate and we will not be the first,
"Even President Goodluck Jonathan is the consensus candidate of the Peoples Democratic Party.
So, there is nothing wrong in having a consensus candidate," he said.
The speaker urged the residents to wait till he launches his campaign in a few days time when he would roll out his plans in key areas.
On his travails during the money laundering case brought against him by the Economic and Financial Crimes Commission (EFCC), Ikuforiji said he believed that leadership came with trials and tribulations.
"If the EFCC wants to appeal the case or whatever, it is the business of EFCC; it is not my business,'' he said.
Ikuforiji said that he believed in the rule of law and was confident that he would always triumph.
"If they appeal, if I have won all over at the lower level, be rest assured that the appeal will amount to nothing," he said.