Terrorism: Again, NEMA Takes Relief Materials To Chibok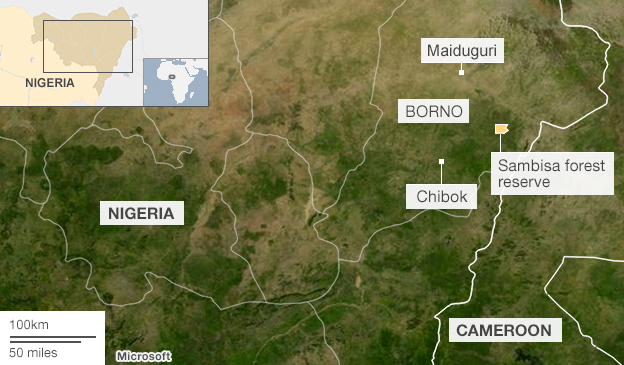 The National Emergency Management Agency (NEMA) has again distributed relief materials in large quantities to members of the Chibok community traumatised by activities of terrorists rampaging most of the North East parts of the country.
National Press Officer of NEMA, Ezekiel Manzo who gave this indication during a media interaction organised by Forum of Spokespersons of Security and Response Agencies (FOSSRA) and I-Nigerian Initiative in Abuja on Thursday said the materials mainly included household items of food and non-food along with some other essentials building materials for temporary shelter.
Manzo said that efforts to rebuild the community will only commence after government might have defeated the terrorists so that houses of citizens will then no longer be destroyed.
He added that the Director General of the agency Mohammed Sani-sidi spearheaded distribution of relief materials to critical communities to motivate other emergency officers to render support in crisis zones.
Thursday's session featured spokespersons of NEMA and Federal Fire Service, Mr. Olutunde Obisesan who also disclosed that a Fire Safety Bill has since been submitted to the National Assembly for consideration and passage into an Act.
Manzo said NEMA has been effectively collaborating with military and security agencies in the fight against terrorism and this has culminated in officials of the agency promptly distributing relief materials to displaced and other traumatised persons in the troubled zone.
The agency has trained some Air Wing pilots and engineers on operation and maintenance of Bell 429 and Sovereign Citation Air Ambulance.
Speaking on major coordination and response activities of NEMA, the spokesperson said it successfully provided assistance to first line responders in the areas of logistics and manpower; assisted in the coordination and responses to road accidents, petrol tanker accidents, bomb blasts incidences, collapsed buildings, post election crises and victims of kerosene explosion.
NEMA also assisted in the coordination and recovery of victims of Helicopter crash at Olaoluwa, Osun State, Dana and Associated air crashes in Lagos State while successful evacuating of distressed Nigerians from foreign countries, including Egypt, Libya, Cote d' Ivoire and Tunisia, Central Africa Republic CAR, Equitorial Guinea, Saudia Arabia.
In recent times, "the Agency's Ambulance scheme was established paving the way for the deployment of the Mobile Intensive Care Units (MICUs) to strategic locations in the FCT. These MICUs have also been deployed to the six geopolitical zones of the country.
"The agency recently inaugurated its first Ambulance Bay in Abuja for prompt response during emergencies along Airport Road. The ambulance bay was designed in collaboration with the Federal Capital Territory (FCT) while the same facilities would be extended to other parts of FCT."
In addition to the agency providing medical assistance to evacuees, population affected by disasters, NYSC orientation camps and so on, NEMA also assisted in rescuing 28 men from MT KHALIFA which caught fire in Escravos based on distress information from Nigeria Mission Control Centre (NIMCC) and the rescue of 4 men from MV UTAI-6 after the ship ran aground and sank in around the Port Harcourt area.
In its efforts to strengthen community resilience against disaster, the agency has created a new department of Disaster Risk reduction and mainstreaming of Disaster Risk Reduction (DRR) into the Basic and Post basic Educational Curriculum in Nigeria in collaboration with the Nigerian Educational Research and Development Council (NERDC) by infusion of disaster risk reduction and Climate Change Adaptation (DRR/CCA) into 4 core subjects.
To prevent a recurrence, the Agency produced Vulnerability Maps for all the States affected during 2012 flood disaster caused by the released of water from Kainji and Lagdo Dams, which causes an overflow of the River Niger and Benue. It also carried out an impact assessment using GIS in Kogi, Nasarawa, Taraba, Edo, Adamawa, Imo, Anambra, Benue, Cross River, Delta, Jigawa, Kebbi, Niger, Rivers and Kwara States.
To strengthen volunteerism in disaster management, NEMA has sustained the recruitment, training and utilization of the Executive Volunteers, NYSC Emergency Vanguard and Grass Roots Emergency Management Volunteer Corps (GEMVC). The disaster management skills given to them is to enable them provide assistance at all phases of disaster management which include prevention, mitigation, preparedness, response and recovery.
Manzo also disclosed that the agency has acquired GIS equipment for easy workflow and effective working environment including "Cx 40 and Gx 42 Scanner, HP LaserJet Plotter, Desktop Computers, LED TV for display of map products/ satellite imagery, UPS, Network server and licensed GIS software; state-of-the-art Search and Rescue (SAR) equipment e.g. modern ambulances (Mobile Intensive Care Unit MICU), excavators, water tankers, RIVs, Air Ambulance, and Bell 425 Helicopter.
NEMA has equally developed an early warning system based on NIMET Seasonal Rainfall Prediction which was disseminated to the 36 State Governors to be used by all stakeholders as working document
On his own part, Obisesan said when passed, the Fire Safety Bill will address most of the current inhibitions to effective operation of the Service.
He also disclosed that a Fire Safety Code has been developed and is presently in operation across the country.
"The Code compels owners of proposed buildings to involve Fire Service Department from the point of design. It means that all that is required for the building to have fire safety devices are embedded. This will ensure that every necessary equipment are installed in the building and so, in the event of fire, it will not really matter if Fire Officers are present or not or even if the owner of the building was around or not.