WATCH Victims Of Boko Haram, Christians Tell Their Stories As Sect Capture Banki Town In Borno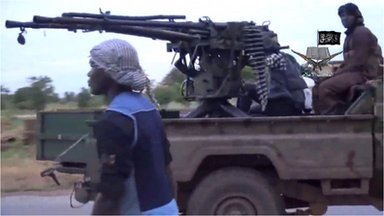 Watch an account of the Victims of Islamic sect Boko Haram in Northern Nigeria supported by Christian Association of Nigeria Americans..
Just as Nigeria's militant Islamist group Boko Haram has captured the town of Banki, which borders Cameroon, after government troops fled, residents tell the BBC. The military has not yet commented on the latest town to reportedly fall to the insurgents in recent weeks.
Fears have been raised that their main target is Maiduguri, the capital of north-eastern Borno state. Boko Haram's "lightning territorial gains" could lead to Nigeria breaking up like Iraq, a think-thank has warned.
Last month, Boko Haram leader declared an Islamic caliphate in areas under the group's control, following a similar declaration by the Islamic State (IS) group, previously known by the acronym Isis, after it captured parts of Iraq and Syria.
"Unless swift action is taken, Nigeria could be facing a rapid takeover of a large area of its territory reminiscent of Isis's lightning advances in Iraq," the Nigeria Security Network (NSN) said in a special report released on Tuesday entitled North-East Nigeria On The Brink.
"If Maiduguri falls, it will be a symbolic and strategic victory unparalleled so far in the conflict," it said.