"Surely We Will Get Over It" Jonathan Visits Emab Bomb Site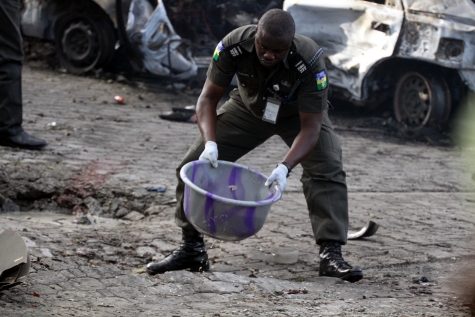 President Goodluck Jonathan visited the site of a deadly bombing in the capital Abuja on Friday after cutting short an African Union engagement to meet victims of the attack blamed on Boko Haram.
Jonathan visited the Emab Plaza in central Abuja where a bomb blast killed at least 21 people on Wednesday and later went to a hospital where victims were being treated, describing the worsening Islamist insurgency as "one of the darkest phases in the history" of Nigeria.
"Nigerians are struggling, thinking about how to contribute to (the) nation's development and working very hard to take care of their families (while) others are busy to kill people," he told reporters outside the hospital.
"It is regrettable," he added. "But surely we will get over it."
Jonathan had planned to attend the second day of talks at the ongoing summit in Equatorial Guinea, but reportedly left the conference on Thursday to return to Abuja.
It was the third major attack in Nigeria's capital since mid-April and raised further fears about Boko Haram's growing strength.