Northerners Should Avail Their Services To The Military In Tackling Terrorism – Ihejirika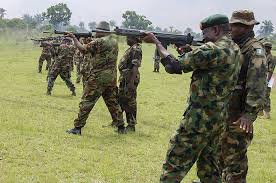 The former Chief of Army Staff (COAS), Lt-Gen. Azubuike Ihejirika has called on northern leaders to avail their services to the military in order to rid the country of terrorism.
At the launch of a book titled:"The Pursuit of Providence", an autobiography on the former Chief of Air Staff, Air Marshall Muhammed Dikko Umar (rtd), written by The Guardian, Abuja Bureau Chief, Mr. Madu Onuorah.
Ihejirika said: "We have people of northern extraction arrested somewhere in my State by the military and other security agencies, let us not forget that not too long ago we spoke with one voice that we are going to join hands to rid the nation of the menace of terrorism.
The former Army Chief maintained,"One good way of doing this, is for people of that same extraction to avail their services to the military and they will definitely help the military in sifting out the chaff from the grains, rather than speaking in a manner that try to create pressure that this country is divided".
"When I was in United States (US) recently, my people over there asked, is Nigeria going to divide? I said Nigeria is not dividing, nobody is going anywhere, we are Nigeria united. I had a chat with Dr. Bello on this, and the truth is that ordinarily, you do not choose whom to buy pepper from, you just buy, you don't go to restaurant and be asking if it is owned by Yoruba, Igbo or Hausa man, you just enter and buy".
Ihejirika stressed further that, "all we need in this country is development and progress. And peace can only be possible the moment we elites begin to mellow own on tribalism, statements that lead to violence"
He revealed that there was nothing good said about the former Air Force Chief so far that was wrong and diluted.