University Of Abuja Shut Indefinitely Over Students' Protest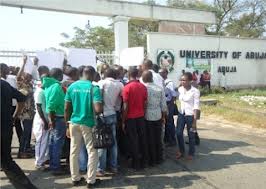 The Management of the University Of Abuja Monday shut the institution indefinitely following a protest by students on the two campuses.
The University's Governing Council ordered students out of their hostels and campuses in a memo issued by the Registrar, Mohammed Modibbo, which reads, "I am directed to inform you that given the situation in the university, the Vice Chancellor has approved that the university be closed down until further notice.
"You are therefore directed to vacate the university until further development is communicated to you."
The Director of Information Unit of the university, Waziri Garba, confirmed the closure of the school, saying it was shut down over the protest by the students, who were agitating for the conduct of their semester examination.
"The school was shut down because the students were demonstrating and demanding the conduct of examination, but examination is not something you demand through demonstration," he stated.