CBN Says 80% Of Nigerian Youths Unemployed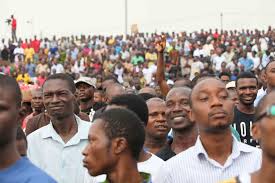 The Central Bank of Nigeria on Thursday said 80 per cent of Nigerian youths are still unemployed according to the Special Assistant on Sustainable Banking, CBN, Dr. Aisha Mahmood.
Mahmood disclosed that unemployment was still a severe threat to Nigeria's economy.
Mahmood spoke while delivering a paper on Nigerian Sustainable Banking Principle during the 2014 World Environment Day programme organised by the Federal Ministry of Environment in Abuja.
"As the population is growing, the resources that we all depend on, the food, energy, water, is declining. The demand for these resources will rise exponentially by the year 2030, with the world needing about 50 per cent more food, 45 per cent more energy and 30 per cent more water.
"In Nigeria, there is the issue of youth and employment. 70 per cent of the 80 million youths in Nigeria are either unemployed or underemployed. We are all witness to what happened recently during the immigration recruitment exercise and this is simply because 80 per cent of the Nigerian youth are unemployed."
"Nigeria has been flaring gas since the discovery of oil in the 1950s. We produce and burn about 20 billion cubic meters of gas annually and this is enough to meet our energy need. Remember we said we don't have electricity, whereas we can provide electricity with this gas that we flare.
"And also when we burn this gas, we produce green house gases that affect our livelihood and the livelihood of people that live around that area."
The CBN special assistant also lamented the high number of persons living below the poverty line in Nigeria as well as the about 120 million persons in the country that still lack access to electricity.