Our Only Interest Is To Bring Back Our Girls Alive- Gen. Chris Olukolade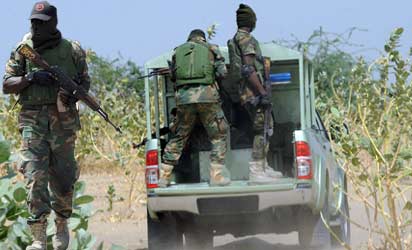 Defence Spokesperson, Major General Chris Olukolade on Monday reiterated that the main objective of military and coalition efforts concerning the abducted Chibok secondary school girls by terrorist group Boko Haram was to rescue the girls alive and save from the clutches of the abductors.
He therefore appealed to media practitioners and the public at large to exercise restraint in the way they speculate and analyse the position of the girls.
Speaking at the regular briefing by the National Information Centre located inside the headquarters of National Orientation Agency (NOA) in Abuja, Olukolade, who led other members of the group insisted "the essence of every ongoing activity by the military and other paramilitary agencies concerning the Chibok girls is to get our girls back safely and the three things paramount include public interest, safety of the girls wider interest of winning the war on terror".
He also confirmed that "a key" suspect has been arrested in connection with the car bombing, which occurred in Mubi, Adamawa State on Sunday night but was not categorical about the particular target of the attack.
The military Spokesperson said the suspect was apprehended with the help of community members who saw him alight from the car used for the attack shortly before it exploded.
In addition, five other suspected terrorists died in Mubi during an exchange of gun shots with troops who wanted to apprehend them during a cordon and search operation, Olukolade said while many others were arrested and have been helping security personnel in their investigations.
And as the World Cup starts in a few days from now, Olukolade appealed to members of the public who would be watching the matches at public viewing centres to be extra vigilant and report suspicious individuals to security agents.
However, the efforts of troops and other security operatives have led to the foiling of several planned attacks on civilian targets in parts of the country in recent times as a result of heightened intelligence gathering.
Giving an update on Sadiq Ogwuche, co-mastermind of the Nyanya Motor Park bombing who was said to have been arrested in Sudan, Police Spokesman, Frank Mba said a high ranking Interpol operative left Nigeria since last week for Sudan with all the necessary documents to secure the extradition and that hopefully, the fugitive would soon be back in the country to face the law.