Match Fixing: Police Investigate Nigeria, Scotland Friendly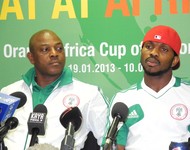 NAN
Police have launched an investigation into attempts to fix a World Cup friendly between Scotland and Nigeria that is due to be played in London on Wednesday, the Telegraph reports.
Officers from the National Crime Agency, Britain's equivalent of the FBI which investigates serious and organised crime, are understood to have asked FIFA to issue an alert over potential attempts to rig the game.
The football match is one of a sequence of friendlies that serve as a warm up for the World Cup in Brazil next month and is due to be played at Craven Cottage, the home of Fulham Football Club.
It is understood that the Scottish Football Association have been liaising with the NCA over the weekend after the game was "red flagged."
Premiership footballers are expected to play at tomorrow's game, including Chelsea's Mikel Obi, Liverpool's Victor Moses and Manchester United's Darren Fletcher. There is no suggestion that any of the players are involved.
There are growing fears that World Cup warm-up matches will be targeted by match fixers acting on behalf of illegal betting syndicates in the Far East. In recent months, there have been a series of arrests following suspected attempts to fix matches in the lower English football leagues. There have also been allegations of illicit activity in cricket.
The National Crime Agency did not respond to comments.
The English newspapers reports that FIFA has detailed plans to give footballers special briefings on what to do if they are targeted by match-fixers during the World Cup.
For the first time players from all 32 competing nations will be given "integrity sessions" by FIFA officials, when they will be told to report anything suspicious via a special anti-corruption hotline available only to players and referees.
The threat posed to the World Cup by organised crime networks all over the world is being taken so seriously by FIFA that it has put a raft of unprecedented measures in place.
Speaking to the Telegraph, Ralf Mutschke, FIFA's head of security, also issued a stark warning to English football over match-fixing, saying a series of arrests by the National Crime Agency last year should act as a "wake-up call" about the seriousness of the problem.
Investigation was re-opened in April into Nigeria's 2010 World Cup qualifying match against Mozambique by FIFA. A convicted Singaporean match-fixer, Wilson Raj Perumal, claimed he influenced results to help the Super Eagles to qualify. Mozambique beat Tunisia in their final game – a result that helped Nigeria and which the Singaporean claims his $100,000 bonus to the Southern Africans made possible.