APC Governors Meet In Kano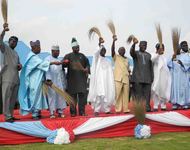 The meeting of the All Progressive Congress Governors kicked off  Monday in Kano amidst water tight security at the Government House, venue of the meeting reportedly sealed by security Agents.
Governors of Adamawa, Edo, Imo, Rivers, Zamafara, Oyo, Yobe, and the host Kano are in attendance.
Governors of Lagos, Ogun, Nassarawa, Ekiti sent in representation details of the emergency meeting yet to be made public..
We shall follow the outcome and update our readers.