Modupe Odele Captures Her Experience In Osun During Her Service Year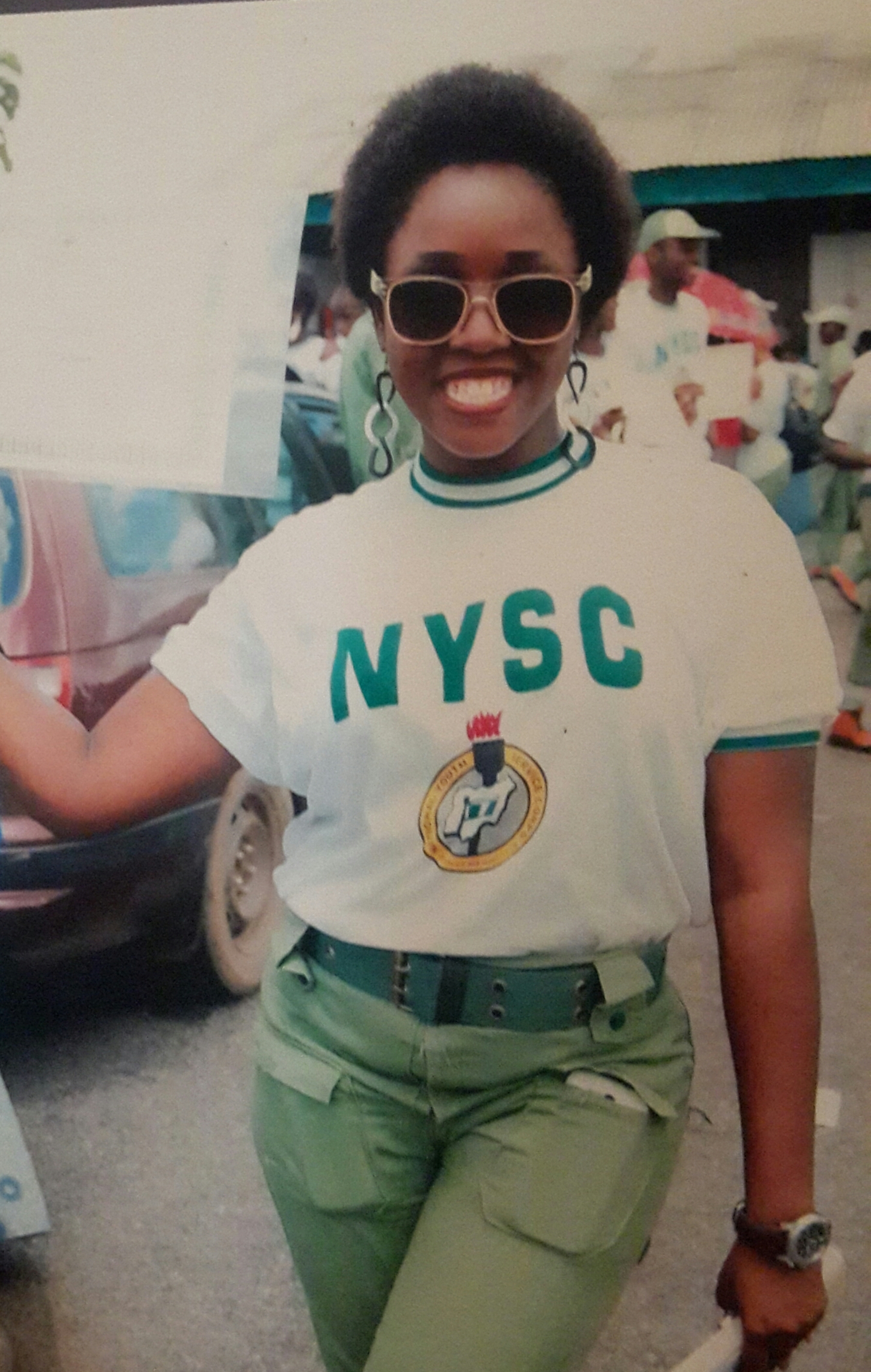 What is going on in Osun?
From October 2012 to December 2013 I lived and worked in the State of Osun. When I first got my deployment letter, I was confused. My familiarity with the state was limited to the legal mêlée that (rightfully) "installed" Ogbeni Rauf Aregbesola as Governor of the state. Unexpectedly, my time in Osun turned out to be one of the most interesting periods of my life.
Now, it is very easy to see and believe all the positive media hype around the state of Osun. The present administration of the State has recorded commendable progress in the achievement of some of its objectives; agreed. However, I intend to give my opinion from the stand point of an ordinary (former) resident of the state.
Naturally, I am a curious person so one of the things I did so well while in Osun was ask questions. I constantly engaged Civil Servants, Business men, Market women, Teachers and Students of the state at every given opportunity. A lot seemed to be going on in the state, I needed to understand everything.
I prefer to start from the beginning; the O'schools, O'Meals, OÚniforms, O'calisthenics  (yes, O'calisthenics) you see is not random. The Ogbeni administration is strictly guided by a 6 point integral action plan. This plan is itemised below:
Banish Hunger
Banish Poverty
Banish Unemployment
Promote Healthy Living
Promote Functional Education
 Promote Communal Peace and Progress
Since assumption of office in November 2010, the Six Point Integral Action Plan has formed the foundation of the initiatives and programs of the present state government of Osun.
Again, the semi- political critic in me was hardly satisfied with this; until I discovered that the State Government has also set up an agency called the Bureau of Social Services (BOSS). BOSS is in charge of ensuring that the people of the state actually receive maximum social benefits from all the policies and programs of the State Government.
After this discovery things got really interesting for me and my semi-political critic. I totally endorse any initiative that promotes communal impact assessment and fiscal discipline in public administration.
To put it simply, BOSS monitors and evaluates all projects the administration embarks upon, the Bureau is also charged with assessing the performance of State Commissioners and heads of MDAs in their implementation of the 6-Point Integral Action Plan. The citizens of the state are also a part of this "Monitoring" as BOSS encourages individuals to report any perceived abnormalities in the way projects and programs are being carried out.
Personally, I am very interested in education so "Promoting Functional Education" caught my attention very quickly.
It is said that within one month of this administration, a physical inspection and baseline assessment of the educational sector was conducted. The outcome of that exercise was quite discomforting. An Education Summit was then put together which was chaired by renowned Nobel Laureate, Professor Wole Soyinka.
Underpaid and unmotivated teachers, crowded classrooms, undernourished children, poor quality of instruction and learning environment, unavailability of learning materials and an inadequate academic curriculum were some of the issues discovered.
The Education Summit made some recommendations for the reformation of the educational sector and these recommendations were immediately adopted by the state government.
The theme for the reformation is "Complete Child, Complete Youth, Complete Citizen" as the state government utilizes an "Integrative approach" in implementing these recommendations.
O'Meals – This is an Elementary School Feeding and Health Program where 3,007 food vendors/cooks were trained and are currently employed to serve midday balanced diet meals to pupils of classes 1, 2, 3 and 4 in all Primary Schools in the State.
O'Schools – Building proper physical structures for schools to replace dilapidated buildings. This massive physical infrastructural exercise is within the framework of the school reclassification system. There are ongoing plans to build 100 elementary schools, 50 middle schools and 26 high school models.
Opon Imo – A learning device in form of an electronic tablet that contains all the textbooks in the learning curriculum of High Schools.
O'Calisthenics – A child needs proper social balance to function effectively, this policy is a co-curricular activity that pupils in schools across the state participate in as part of physical education drills.
Vocational and Entrepreneurial Education – There are various initiatives in place to provide these trainings especially outside the formal school walls.
Osun School Reclassification  
I will attempt to explain this as succinctly as possible.
In Nigeria, we are used to a 6-3-3-4 system of Education; so is Osun trying to do something different?
Practically, there has been no fundamental alteration to the 6-3-3-4 scheme; what Osun has done is a grouping of the 12 years of primary and secondary education before the 4 years of tertiary education.
The reason for this is quite simple; it was discovered that a lot of pupils drop out of school immediately after primary 6 so the plan is to provide a scheme that encourages "continuous education". The last two years of junior secondary school have been extracted to form a 'middle school Cadre' so what you have presently in Osun are; Elementary Schools (Ages 6-9, Grades 1-4), Middle Schools (Ages 10-14, Grades 5-9) and High Schools (Ages 15-17, Grades 10-12). This makes transition to secondary school easy and automatic for Elementary school pupils. The objective is that no pupil will exit education at grade 6 and that all will proceed to complete and graduate from the Middle school at grade 9 thereby making BECE (Basic Education Certificate Examination) the least certificate for any school leaver in the state. Students in Osun still spend 12 years on basic education as stipulated by the National Policy on Education and are taught the same curriculum as students elsewhere in Nigeria.
In addition to the above mentioned, various Teacher training programs are being run in the state to better equip the teachers.
For me, results are very important. Has this reform of the educational sector recorded any wins? Yes. In 2010 Osun was placed 34th amongst 36 states in the performance rankings of the West African School Certificate Examinations (WASCE) and by 2012 placed 8th.
Interestingly seventeen-year-old Folafoluwa Oginni a product of the State of Osun public Education System  emerged the overall best pupil in the May/June 2012 West African Senior School Certificate Examination. She scored A1 in all her subjects with a cumulative score of 653.9318 and is presently a holder of the WAEC's national distinction/merit award.
Another area worthy of mention is the general infrastructural development in the state. All through my time in Osun, the state was filled with ongoing construction. Sometimes, this was really annoying. From heavy traffic to my favourite supermarket getting shut down because illegal structures were being demolished; but I have chosen to appreciate the bigger picture here.
There's a multiplier upshot that can be deduced from this; for instance to modernise the food production chain an infrastructural upgrade is extremely necessary. Without good roads even agricultural developments will stall. From moving raw materials to evacuation of produced goods a farmer needs good road networking.
Within 24 months 513 km of high quality roads were constructed. I concede to the fact that some of the completed roads in Osun at present were commenced by the previous administration.
The Osun State government also directed all the local governments within the state to embark upon the construction of quality 10km roads in their domain and at the time I left Osun work had commenced on these local government roads; by now I expect a higher percentage of completion.
One construction that actually excites me is the commencement of the construction of Gbongan – Akioda trumpet exchange. This is expected to provide uninterruptible link with Ibadan – Ilesa expressway for traffic turning into Osogbo and those from Osogbo turning towards Ife thereby eradicating traffic interception at the junction.
Chief Adebisi Akande (Governor of Osun May 1999 to May 2003) describes the ongoing infrastructural developments in the state of Osun as a "Miracle'. From my interactions with the citizens of the state; most see it as a miracle too and reasonably have a few concerns. How is the government financing these projects? Can Osun afford all these? How much time does Ogbeni need to complete these projects? Does he actually have this time?
During my stay in Osun; I became au fait with so many other interesting initiatives such as the O'YES – Osun Youth Empowerment Scheme, AGBA OSUN – Where the elderly are given periodic stipends and the monthly WALK-TO-LIVE program.
What I saw, heard and experienced portrays an administration that is determined to deliver on its manifesto; though far from perfect, the State of Osun seems to be headed in the right direction.
Disclaimer
It is the policy of Newswirengr not to endorse or oppose any opinion expressed by a User or Content provided by a User, Contributor, or other independent party.
Opinion pieces and contributions are the opinions of the writers only and do not represent the opinions of Newswirengr