Names Of Abducted Borno School Girls Released [See Details] #BringBackOurGirls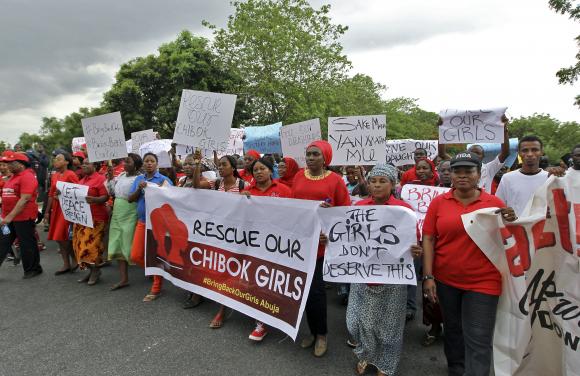 President/Founder of Old Time Revival Hour, Kaduna & immediate-past chairman of Northern States Christian and Elders Forum (NOCSEF), an affiliate of CAN, Evangelist Matthew Owojaiye gave reason for the attack on Chibok girls' high school.
"Chibok Local Government is 90% Christians. Majority of the girls abducted are Christian! Why did Boko Haram visit Chibok Local Government? Why didn't they visit so many other Local Government Girls Secondary Schools in Borno State?"
Owojaiye said for "Daughters of Zion taken captive, to be treated as slaves and sold into marriage to unclean people. Abomination has been committed.
"?Raise lamentation to High Heavens. What a shame on the Church of the Living God.
"The Church in Nigeria is hereby called to A Lamentation Prayer.
"Every Christian home must raise a lamentation to heaven daily. Let God arise and defend his Name, Honour and Majesty.
"Let a 15 minutes cry to heaven be done in every Church every time they gather. Oh God, Rend the Heavens and come down!
Why should the people say where is our God?
"The Military may not be able to solve the problem but prayer will. Ordinary Military force may not get them out! Intensive Agonizing Prayer will."
CAN added that there should be a concrete plan by the federal government after the recovery of the abducted girls.
"We make the following demands of the Federal Government whose duty it was to protect the innocent girls.
"First, a N50million damage as trauma compensation to each girl.
"Second, a preparation to take each girl to an overseas University on Government scholarship by September 2014. Preparation for that must start now!
Authenticity of the names are yet to be verified
The names as released by CAN.
Here are the names of our daughters.
These are the Christian Girls:
1 Deborah Abge
2. Awa Abge "
3. Hauwa Yirma "
4. Asabe Manu "
5. Mwa Malam pogu "
6. Patiant Dzakwa "
7. Saraya Mal. Stover "
8. Mary Dauda "
9. Gloria Mainta "
10.Hanatu Ishaku "
11. Gloria Dama "
12. Tabitha Pogu "
13. Maifa Dama "
14. Ruth kollo "
15. Esther Usman "
16 Awa James
17 Anthonia Yahonna
18 Kume Mutah
19 Aisha Ezekial "
20 Nguba Buba "
21 Kwanta Simon.
22 Kummai Aboku.
23 Esther Markus
24 Hana Stephen.
25. Rifkatu Amos
26 Rebecca Mallum
27.Blessing Abana.
28. Ladi Wadai
29. Tabitha Hyelampa.
30 Ruth Ngladar .
31 Safiya Abdu .
32 Na'omi Yahonna.
33 Solomi Titus .
34Rhoda John
35 Rebecca Kabu
36. Christy Yahi.
37. Rebecca Luka.
38. Laraba John
39 Saratu Markus.
40. Mary Usman.
41 Debora Yahonna.
42.Naomi Zakaria
43 Hanatu Musa
44. Hauwa Tella
45.Juliana Yakubu.
46. Suzana Yakubu
47.Saraya Paul.
48. Jummai Paul
49. Mary Sule
50. Jummai John.
51.Yanke Shittima.
52. Muli Waligam .
53. Fatima Tabji.
54. Eli Joseph.
55.Saratu Emmanuel.
56. Deborah Peter.
57.Rahila Bitrus.
58. Luggwa Sanda.
59. Kauna Lalai.
60. Lydia Emmar.
61.Laraba Maman.
62.Hauwa Isuwa.
63. Confort Habila.
64. Hauwa Abdu.
65. Hauwa Balti.
66.Yana Joshua.
67.Laraba Paul.
68.Saraya Amos.
69. Glory Yaga.
70. Na'omi Bitrus.
71. Godiya Bitrus.
72. Awa Bitrus.
73. Na'omi Luka.
74. Maryamu Lawan.
75. Tabitha Silas.
76. Mary Yahona.
77. Ladi Joel.
78. Rejoice Sanki.
79. Luggwa Samuel.
80.Comfort Amos.
81. Saraya Samuel.
82. Sicker Abdul.
83.Talata Daniel.
84. Rejoice Musa.
85Deborah Abari.
86. Salomi Pogu.
87.Mary Amor.
88. Ruth Joshua.
89Esther John.
90. Esther Ayuba.
91. Maryamu Yakubu.
91. Zara Ishaku.
93. Maryamu Wavi
94. Lydia Habila.
95. Laraba Yahonna.
96. Na'omi Bitrus.
97.Rahila Yahanna.
98. Ruth Lawan.
99. Ladi Paul.
100 Mary Paul.
101. Esther Joshua.
102. Helen Musa.
103. Margret Watsai.
104. Deborah Jafaru.
105. Filo Dauda.
106. Febi Haruna.
107.Ruth Ishaku.
108.Racheal Nkeki.
109. Rifkatu Soloman.
110.Mairama yahaya.
111.Saratu Dauda.
112.Jinkai Yama.
113.Margret Shettima.
114.Yana yidau.
115. Grace Paul.
116. Amina Ali.
117. Palmata Musa
118. Awagana Musa
119. Pindar Nuhu
120.Yana Pogu.
121. Saraya Musa
122. Haul Joseph.
123. Hauwa kwakwi.
125. Hauwa Musa.
126. Maryamu Musa.
127. Maimuna Usman.
128. Rebeca Joseph.
129.Liyatu Habitu.
130. Rifkatu Yakubu.
131. Naomi Philimon.
132.Deborah Abbas.
133. Ladi Ibrahim.
134. Asabe Ali
135. Maryamu Bulama.
136.Ruth Amos.
137.Mary Ali
138. Abigail Bukar
139 Deborah Amos
140. Saraya Yanga
141. Kauna Luka
142. Christiana Bitrus
143.Yana Bukar
144. Hauwa peter
145.Hadiza Yakubu.
146.Lydia Simon
147. Ruth Bitrus .
148.Mary Yakubu
149.Lugwa Mutah.
150 Muwa Daniel.
151 Hanatu Nuhu
152. Monica Enoch.
153. Margret Yama.
154.Docas yakubu.
155. Rhoda peter
156. Rifkatu Galang
157. Saratu Ayuba.
158. Naomi Adamu.
159. Hauwa Ishaya
160. Rahap Ibrahim
162. Deborah Soloman.
163Hauwa Mutah
164. Hauwa Takai.
165. Serah Samuel.
Below are the Muslim Girls.
166. Aishatu Musa.
167. Aishatu Grema.
168. Hauwa Nkeki
169. Hamsatu Abubakar
170.Mairama Abubakar.
171 Hauwa Wule
172. Ihyi Abdu
173. Hasana Adamu.
174. Rakiya Kwamtah
175 Halima Gamba.
176. Aisha Lawan .
177. Kabu Malla
178. Yayi Abana.
179. Falta Lawan.
180. Kwadugu Manu.