Opinion: Just Before Nigerians Join Cameroon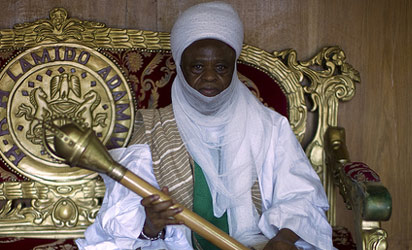 At the national conference, it was week two and the drama continued, from where it stopped in the first week.
We had been treated to the dramatics of language of debate and women had protested marginalization, so with the ball rolling, the week was in no way going to disappoint, it continued with the 'sleep elite' and the sad passing away of one of the delegates.
The debate as to how consensus would be formed was dragging on for too long, but with the consensus group formed, a solution was in sight…
Then, the Lamido of Adamawa, Alhaji Muhammadu Barkindo Mustapha, served it up, "The president delivered an address and laid down what we are supposed to discuss and what not to discuss. But many people here, some of them elder statesmen who claim to be strong loyalists of the president…these people are in the forefront to contradict what the president has said. In the long run, if we are not careful, this conference will flop. God forbid. If it flops, the effect will not be imaginable. If anything happens and the country disintegrates, God forbid, many of us who are shouting their heads off may not have anywhere to go. My people and the people of Adamawa have got somewhere to go. I am the Lamido of Adamawa and my kingdom extends to Cameroon. The larger part of my kingdom is in Cameroon. Part of that kingdom is today called Adamawa State in Cameroun. You see, if I run to that place, I will easily assimilate."
Former FCT Minister, Lt General Jeremiah Useni, reacted that since the Lamido Adamawa is the head of Fulanis across borders that may be responsible why he said his kingdom extended to Cameroun.
"He is a traditional ruler and a traditional ruler can even be three years. I remember when I was governor of Bendel State; the traditional ruler of Obior or so was three years old. So, not every elder statesman is a traditional ruler and not every traditional ruler is an elder statesman."
Oodua Peoples Congress, OPC, Otunba Gani Adams, in his own reply, said he was disappointed that such statement could come from a royal father like Lamido.
He noted that unlike the north, the Yoruba nation don't depend on the government for survival, adding that the region could survive without the government.
"It is the North that depends on the government, they don't need Nigeria more than us, but we all need Nigeria because we have inter-married, done businesses together and Abuja solidifies us"
There is depth in all the comments made so far in the very infantile confab, and my admonition is this, by all means if joining Cameroun, Chad, Niger, Sudan, Benin Republic, Togo or Ghana would solve the Nigerian quagmire, please let everybody join. I am aware that some would even prefer to join the United States or far flogged off places like New Zealand.
Zimbabwe, Madagascar, and Belize are a few places too, But first I hope these countries would allow us join them. And hopefully they would allow us join them with our troubles, baggage, and add a twist to theirs.
It all looks easier said than done, plenty talk about the Southwest is ready to be on its own and the Biafran tales by moonlight, even the Middle belt ahs its belt well sized out.
Roman writer Publilius Syrus offers insights that I believe should help us in thinking straight, "in a heated argument we apt to lose sight of the truth." Nigerians are loosing it; everyone is vexing including the Lamido of Adamawa, the vexation is religious, it is regional, it is ethnic, it is political, it all ramifications, everyone is right from his point of view.
The ordinary woman on the street, has her everyday fear, and doesn't understand all the threats, the killings and why we cannot get it right. We are not the most diverse nation in the whole world, yet our elite plays deep-seethed bitterness laced with intrigues aimed at outsmarting each other, while the populace fights each other.
Who will bail out the cat, who will be that leader, how can we stop the circle, just in case we don't get it, I will share this little puzzle and allow us ruminate thoughtfully.
Boss says to secretary, "We are traveling abroad for the week, so make arrangements."
Secretary makes a call to her husband, "My boss and I will be traveling abroad for the week, so look after kids."
Husband makes call to secret lover, "My wife is going abroad for the week, so let's spend the week together."
Secret lover makes a call to a little boy whom she is giving private lessons, "I'm going to be busy throughout the week, so you need not come for classes."
Little boy makes call to his grandfather, "Grandpa, I don't have classes for the week, because my teacher is going to be busy. Let's spend the week together."
Grandpa makes a call to his Secretary, "I'm afraid we won't be traveling again. My grandson and I are going to spend the week together."
Secretary makes a call to her husband, "My boss has some personal matters to attend to, so our trip is cancelled."
Husband makes a call to secret lover, "We cannot spend the week together, my wife has cancelled her trip."
Secret lover makes a call to little boy, "We will still have classes as usual this week."
Little boy makes a call to his grandfather, "Grandpa! I'm sorry we won't be able to spend the week together. My teacher called and said that I have to attend classes."
Grandpa makes a call to his secretary, "Change of plans! My grandson is no more coming. So we are still traveling this week. Make arrangements."
Let the Lamido threaten, to Gambia for all I care, there is a nation in turmoil, lives and property have no value, ritual killings, Fulani raids, unknown gunmen, cattle rustlers, Boko Haram, government haram, we are just not getting it right, the question is, how will the chain be broken, when will it be broken–only time will tell.
Yours In High Regards
____________________________________________________________________
Written By Prince Charles Dickson 234-8033311301, 8057152301 http://www.iq4news.com/ [1] www.amebosayso.wordpress.com [2]
Disclaimer
It is the policy of Newswirengr not to endorse or oppose any opinion expressed by a User or Content provided by a User, Contributor, or other independent party.
Opinion pieces and contributions are the opinions of the writers only and do not represent the opinions of Newswirengr