Northern Governors Should Be Blamed For Boko Haram, Not Me- Jonathan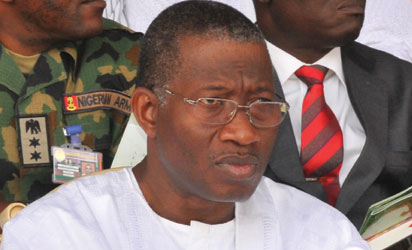 Estimated Reading Time: <1
President Goodluck Jonathan Saturday took a swipe at governors for accusing the Federal Government of bad leadership, asking them to stop pushing blames when they have failed on their part to provide primary and secondary education for their citizens.
Vanguard reports that tt North-east Zonal Rally of the Peoples Democratic Party, PDP, in Bauchi, Jonathan also lampooned some northern governors over insurgency in their states which he blamed on lack of education for the children and employment consequent upon which they are ready tools for terrorists.
Jonathan, who charged the governors to take charge and stop blaming their inept leadership on the Federal Government, however asked if the federal government, constitutionally responsible for the provision of tertiary education, should be in charge of primary and secondary education at the state level.
He said, " Sometimes governors will come and say we have some issues because of bad leadership. I was governor, deputy governor before I became a governor. I spent eight years at the state level, I handled security challenges. That was the state where the first commercial kidnapping took place because of excess militancy.
More than 70 % of the state is swamp. I knew how we handled things. A governor will come and say bad leadership, bad leadership from whom? If we have security challenges, whether you call them Boko Haram or whatever, these are people who couldn't go to primary school, who couldn't go to secondary school and they have no hope and miscreants or criminals now recruit them and using them; if you see what they wear, they wear rags and not normal clothes; all what they put on their bodies is not worth N10, but they carry rifles and bullets that are worth more that N250, 000. Somebody gives them food to eat so that they can kill.
"You ask how did we build this army of unemployed or unemployable youth? The Federal Government does not control primary education; it does not control secondary education, and a governor has been on seat for almost eight years and we have people in that state that can't go to primary school, that can't go to secondary school. You say bad leadership, who is the bad leader? Is it the Federal Government? I made sure that every state has a university. That is the responsibility of the Federal Government and I have done it.
"Governors must make sure that our children go to primary school, governors must make sure that our children go to secondary school. Somebody hide under the cover of politics and cannot do it in eight years or seven years plus. We still have do many children in your state that cannot go to primary school, not going to secondary school and you open your mouth to say bad leadership; is it the Federal Government or Mr. President that should come and take your children to primary schools? Federal Government by the constitution faces tertiary education."