Privatisation : Nigeria Begins Sale Of Oil Refineries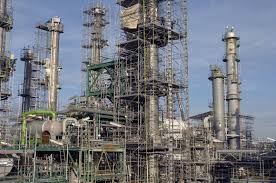 After years of debating and denial by Nigeria's Federal , it appears it is finally set to privatise the nation's four refineries in Port-Hacourt, Warri and Kaduna.
The Director-General of the Bureau of Public Enterprises, BPE, Mr. Ben Dikki, made the disclosure at a briefing in Abuja, yesterday.
The DG said, "it should be noted that the labour unions have expressed their willingness to dialogue with government to develop appropriate business models for the refineries. This will be followed up and should lead to the commencement of the privatization process in 2014.
"The steering committee is expected to commence work soon and develop an appropriate framework for privatization that is acceptable to all stakeholders.
"The labour leaders have said that they are not averse to the privatization of the refineries. What they want is that they should be included in determining the direction and the processes of the privatisation.
"What we want from them now is to give government the assurance that they are willing to proceed with the privatization. Once we have their assurances after due consultations with their members and they revert back to government that they have no objection to privatiSation of the refineries, we shall commence the process, after reporting such a commitment of labour to Mr. President and Mr. Vice president.
"I repeat, we want the commitment from labour that they are pro-privatisation and government is willing to include them in the steering committee so that we can jointly work together in fashioning out the appropriate modalities in dealing with the refineries.
"Once we receive such assurances from the two labour unions, we shall revert back to Mr. President to seek his approval to go ahead with the privatization of the refineries.
Former President Olusegun Obasanjo had sold off some of the refineries to Blue Circle at the end of his eight-year government in 2007 but late President Umaru Yar'Adua reversed the transactions and returned investors funds to them.
Mr. Dikki went on to disclose that the federal government has secured a court approval to undertake a guided-liquidation of Nigerian Telecommunications Limited, NITEL and its subsidiary, MTEL.