Makinwa Drags Chinese Club To FIFA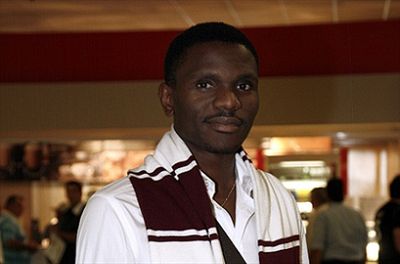 Former Super Eagles of Nigeria striker, Stephen Ayodele Makinwa has asked Football's World Governing body, FIFA to help him ot so he could receive his compensation from China League One club, Beijing Baxy.
Baxy had terminated the 30-years-old player's contract just one year into a two-year deal.
Makinwa claims he has not received an official statement from the club explaining the premature termination of his contract. As he result, the player has contacted his legal team to take the case to FIFA's doorpost.
"The club president told me during our pre-season that the arrival of new sponsors and partners has led to a decision to sign new foreign players,"
"There was nothing official, no option of a mutual termination or an indication of what to expect from our conversation.
"So when it was time to return [after pre-season in Kunming, southwest China], Baxy failed to provide me with the necessary documents for my re-entry visa.
"They refused to respond to my warnings and after they shut the door of communication I filed a complaint to FIFA seeking redress for wrongful termination of my contract,"  the former Lazio star explained.
Makinwa featured for the Super Eagles at the 2006 and 2008 African Cup of Nations in Egypt and Ghana respectively. He made his debut for the Super Eagles and has netted twice over 18 caps