Madonna Wears 1,000 Carats Of Diamonds To Oscars After Party [Pictured]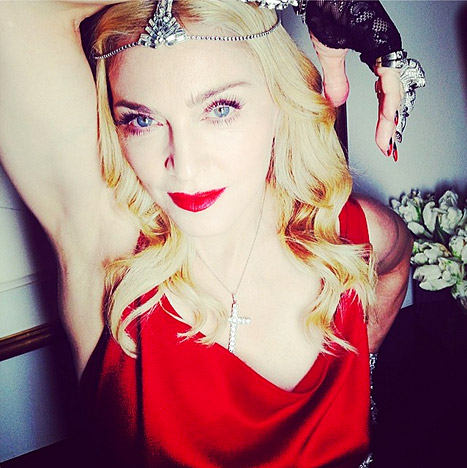 How well can you spend your money with the as a pop star?
Well Madonna knows how to show off as a true material girl. She wore 1,000 carats of diamonds at her Oscars after party on Sunday, Mar. 2.
The 55-year-old singer posted an Instagram photo of herself from Sunday night's festivities, rocking a cherry red gown and matching lipstick, draped in jewels from head-to-toe. "The Oscar goes to Party ## 7!!!!! #revolutionoflove," she wrote in the caption.
The press release announced Madonna wore 1,000 carats of diamonds up the wrist and on her ears, including diamond and platinum bracelets and earrings. In addition to the Neil Lane jewels, the blonde superstar adorned her eye-catching gown with even more jewels. Leaning against a wall in her pic, Madonna flashes the camera an intense gaze as she wears a crystal-coated pendant on her head and diamond-covered cross necklace around her neck.
That's just how to spend your money especially when you can afford it..
Let's hear what you think….