Mike Ozekhome: Sanusi's Suspension Is Overdue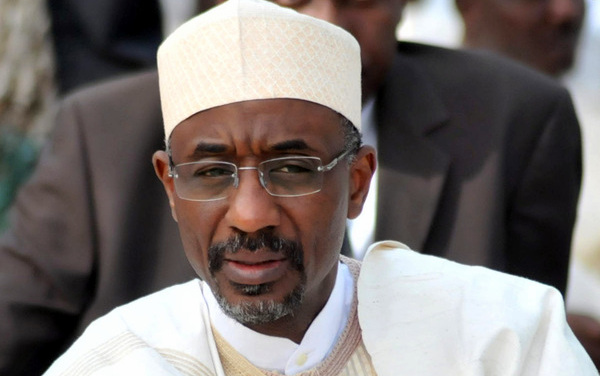 I whole-heartedly welcome the suspension of Mallam Sanusi Lamido Sanusi as Governor of Central Bank by President Goodluck Jonathan. He cannot fairly hold on to his office whilst his weighty allegations of missing funds are being forensically audited. Indeed, not only did the suspension come too late, it should also have been one of outright sack or dismissal. I am one of the strident critics of President Jonathan for being too tardy in taking crucial decisions on critical matters that affect the nation. This is one such tardy decision, coming too late.
The Central Bank of Nigeria is the apex banking institution, the equivalent of America's Federal Reserve Bank, the latter of which was set up on 23rd December, 1913.
Like the American Federal Reserve Bank, the Central Bank of Nigeria by the CBN Act, is supposed to be banker to banks, spearhead stability in prices, control interest rates, in a way that makes them moderate, maximize employment opportunities, conduct the Nation's Monetary and fiscal policy, supervise and regulate banking and allied institutions, conduct research into the Nation's economy and make it buoyant.
Mallam Sanusi mounted the exalted office of Governor of Central Bank nearly five years ago, at a time the naira was exchanging for less than 140 naira to the Dollar. Today, the exchange rate hovers anything between N165 naira to N172 naira to the dollar, the highest and most shameful in the history of this country. Whilst conceding that Lamido did a great job in sanitizing and deodorizing the banking system, leading to the emergence of stronger commercial banks, he has not fared well in the area of calm conduct, sober carriage and the magisterial disposition expected of his office. He has conducted himself more like a proud, arrogant and boastful politician, an unrepentant pseudo activist and a social critic even of his own Central bank policies, aside the economy of Nigeria that he gleefully tears to shreds and tatters.
Have you ever heard of the Director of the American Federal Reserve Bank, Janet L. Yellen, making inciting and provocative statements against her appointor, President Barack Obama, or against the Treasury Secretary, or the 31st Governor of the Bank of Japan, Haruhiko Kuroda, or the Governor of the Central Banks of England, Mr. Mark Carney, making statements against their Governments? Have you ever read on the pages of newspapers, or watched on the screen, these Governors recklessly and openly flirting with the opposition parties, allying with their views, as against those of the Government of which they directly form a part and parcel?
Have you heard of the Governors or Central Banks of Australia, Ghana, Hong Kong, France, Germany, Brazil, Switzerland, Canada, or South Africa open castigating their Government?
Sanusi didn't appear to have appreciated the fact that he could never absolve himself from any failure of the Nigerian economy. He appeared to believe, erroneously, that he could single himself out and simply waltz away, majestically, from the mess of our economy, like a shining star on a dark, cloudy sky. He is wrong, dead, wrong. Nigerians now and posterity yet unborn will hold him squarely responsible for our economy, at least, for the Naira that has been severely battered.
His proud, highfalutin carriage, strutting about in flowing garments with a heavy turban, like an Emir, that we hear he aspires to be, in his native Kano without any official or informal denial or denouncement of the speculations, even when the incumbent Emir of Kano Emirate, Alhaji Ado Bayero that he hopes to succeed, is very much alive, hale and hearty, his soap box speeches and theatrics, his rampant strident condemnation of a Government he forms part of, and his overt contempt and disdain for his appointor, the President, did not accord his office the dignity, sobriety and calmness it deserves.
A Central Bank Governor is to be seen and rarely heard, if ever, except only on crucial financial, monetary and economic matters, where his public intervention is called for, with a view to strengthening the economy and increasing investors' confidence in the economy of that country. Sanusi has played the exact opposite role. He has helped, incrementally and instalmentally, to damage, if not destroy, the very fabric of confidence in the very economy he is supposed to jealousy protect.
Sanusi went about recklessly making outrageous donations in billions of naira to Universities and other social causes, clearly outside the Primary mandate of the Central Bank. The worst thing about these donations is that they were never budgeted for, nor approved by the National Assembly. He carried on like Emperor Louis IV of France, of the "l'etat ce moi" (I am the state) fame. He did not appear to be a team player, but a lone ranger, a loose canon, operating alone and individually. Has Sanusi ever heard of the Doctrine of collective responsibility, or Ministerial responsibility? Did it occur to Sanusi that the success or failure of the Jonathan Government whose monetary policies he headed and superintended over, was also his success or failure?
In a decent society, Sanusi would have resigned immediately he discovered he haboured fundamental disagreement and irreconcilable difference with the Government he serves. But he selfishly held on to his position, neither relinquishing it, nor conforming with it. He behaved typically like the proverbial "chichido" bird, graphically captured by Professor AyiKwei Armah in his seminal novel, "The Beautiful Ones are not yet born". The bird hates human excrement with all its heart and soul, but paradoxically feeds on maggots that wriggle out of he decaying feaces. It is akin to hating beans, but relishing on moi-moi, or akara, which is a direct by-product of beans.
Sanusi approbated and reprobate simultaneously, on many issues, blowing hot and cold at the same time. He violated global principles of public decorum expected of holders of such a reverred office. He flip-flopped over figures allegedly missing from NNPC, after leaking to the media, a confidential letter he wrote in September, 2013, to the President, even when he was forced to admit that it was not the business of the CBN which he headed, but that of PPRA, to reconcile figures and disclose the exact amount the NNPC paid into the Federation Account. This, even when the figures were to be audited forensically on the directives of the Senate.
He serially accused the NNPC of not remitting $49.8 billion of crude oil proceeds to the Federation Account, an amount he later recanted on, without apologies, as an "error". But this "error" sent the wrong volcanic signals to the international business Community about the state and stability of the Nigerian economy.
In Sanusi's letter to the President on September, 25, 2013, he claimed that the NNPC paid only 26 percent of oil earnings to the Federation Account between January, 2012 and July, 2013, He said that $49.8bn, representing a whopping 74 percent, was not remitted by NNPC. This staggering sum, he claimed, the NNPC kept away, was bound to raise the adrenalin of millions of Nigerians and Non-Nigeria across the world. And it did. It did not occur to Sanusi (who should be master of figures) that if about $49.8bn were to disappear from oil proceeds, the entire economy and Government would collapse immediately. Nigeria's two years budget is not up to this staggering amount.
Sanusi initially stated that $49.8bn was missing. After reconciliation meetings involving stakeholders, he changed his figures to $20billion, then $12bn. The Minister of Finance Dr. (Mrs.) Ngozi-Okonjo-Iweala, insisted that the figures yet to be reconciled stood at $10.8bn. Like a dog with a tail between its legs, Sanusi surprisingly agreed. At this stage, any decent, self-respecting public office holder would have thrown in the towel. He stayed put. Then suddenly, while appearing before the Senator Ahmed Makarfi led Senate Committee on Finance on February 6, 2014, Sanusi again changed his figures to $20bn! Thus, Sanusi's figures have, at various times, jumped from $49.8bn to $67bn, to $20bn, to $12billion, to $10.8bn and then back $20bn, all within the short space of one and a half months. A simple reconciliation between CBN, NNPC, PPRA, and Ministry of Finance would have sufficed.
Lamido brazenly politicized his sober office, committing serial infractions and violatious of laws and regulations governing his exalted office. He became a "Mr. Donatus", deeping his hands freely and leisurely, into the coffers of the CBN (without budgetary approval), to make humongous and mind–bungling donations. In this frenzy, as if money was going out of fashion if not quickly used, he made several donations to institutions and social causes without due process of law. He is said to have serially violated Section 15(1)(a) of the Public Procurement Act which provides that all procurement of goods, works and services carried by the Federal Government of Nigeria and all Procurement entities (which include CBN) must conform with the Act. This is geared towards promoting competitiveness, cost of effectiveness and professionalism in public sector procurement regime.
The CBN is said by the Government, Auditors and the Financial Reporting Council of Nigeria (FRCN) to have serially violated the Personal Income Tax (Amendment) Act, 2007 CBN Act. For, example, the CBN under Sanusi is said to have expended 3.08 billion naira on "promotional activities" in 2012 (up from N1.084 billion in 2011), even when CBN is not in competition with any other institution in Nigeria, it not having any rival.
CBN claimed to have expended N20.202 billion on "legal and professional fees" in 2011, beyond any reasonable standards of prudence, transparency and accountability.
CBN under Sanusi also expended N1.257 billion in 2012 on "private guards" and "Lunch for Policemen".
CBN claimed to have paid N38.233 to the Nigerian Security Printing and Minting Company Ltd (NSPMC) in 2011, for the "printing of Bank notes", whereas the same NSPMC reported a total turnover of N29.370billion for all its transactions in the same 2011.
The Governor undoubtedly deployed huge sums of money without appropriation, and without basing it on acceptable legal mandate, prudence in spending and overriding national interest. The CBN under Sanusi is said to have either executed or is executing currently, over 63 "intervention projects" across Nigeria, without appropriation or authority. Yet, he is the first to mouth transparency and account ability! I should not be taken to be defending Government infractions, or corruption. No. We must insist that NNPC, PPRA, etc, account for monies received by them. But the point must be made that whistle blowers must themselves live above board like Caesar's wife. He who comes to Equity must not only do Equity, he must come with clean hands.
Sanusi, with reckless abandon and impunity, had donated, questionably and outside the mandate of his office (ultra vires) and without budgetary approval by the Senate, N4 billion to Bayero University, Kano, N10 billion to Uthman Da Fodio University, Sokoto, N500 million naira to the University of Benin, N100 million naira to the Kano State Government, N250 million to Sokoto State over a fire disaster, and about 9.5billion to ASCON in Badagry. Are these part of the role of Central Bank Governor under the CBN Act? Meanwhile, the naira that he is mandated to protect is on a free fall, somersaulting serially like Esan "Egbabonalimhi" dancers from Ewohinmi, Edo State.
He hobnobbed openly with the opposition (there is nothing wrong in this at all, except that he should have first resigned from his sacred office), delivering scathing sermons against his own government. What manner of man would freely deep his fingers into his anus or asshole (permit the vulgarity, for want of a more effective, decent word) and smell it? What would one expect if he brings ants-infested pieces of fire-wood into his house? Lizards, of course.
Even when he was advised by well wishers to resign from office, or go voluntarily on pre-retirement leave, he arrogantly declared he would do neither and that no one could remove him from office, except the Senate. I watched and followed with trepidation, the temerity and the sheer brazenness and audacity of his vituperative outbursts, quite unbecoming of the Governor of an apex bank anywhere in the world. he behaved as if he was not amenable to Law, discipline or control.
It is trite that he that hires can fire. The enabling Act which creates the Central Bank is the Central Bank Act. Under Section 9 of the Central Bank Act, CAP C4, LFN 2004, the mode of appointment of the Central Bank Governor is clearly stipulated. Thus, the section provides as follows:
(1) The Governor and Deputy Governors shall be persons of recognized financial experience and shall be appointed by the President by instrument under the public seal and on such terms and conditions as may be set out in their respective letters of appointment. This is subject to confirmation by the senate with two third majority voting.
(2) The Governor and Deputy Governors shall be appointed in the first instance for a term of five years and shall each be eligible for re-appointment for another term not exceeding 5 years.
From the foregoing section, it is the President alone, without any other authority, who has the power to hire the Governor of Central Bank, with the Senate concurring. Once the Governor has been appointed by the President, the Governor automatically has a five year term and cannot be removed except under the circumstances stated under Section 12 of the Central Bank Act, CAP C4, LFN 2004.
Although, the Governor, while enjoying his appointment by the President cannot be arbitrarily removed from office under the Act, his tenure may be under elongated after appointment under Section 9(3).
The CBN Act did not specifically talk about suspension. It did not prohibit it either. Dismissal which must be endorsed by the Senate has to first be preceded by suspension, which does not require Senate approval. The CBN Act did not say that Sanusi can never be suspended no matter his transgressions. The law is that what is not prohited or forbidden is allowed:
A.G Ondo State V. A. G Ekiti State (2001) 17 NWLR (pt 743) page 706 at 770 para A. See (Gordon Slynn Slnn of Hadley, Mads Tonnesson Andenaes, Duncan Fairgrieve (2000), Judicial review in international perspective, Kluwer Law International, P. 256, ISBN 978-90-411-1378-8). See also United States case of Chevron U.S.A., Inc V. Natural Resources Defense Council, Inc., 467 U.S 837 (1984).
It is therefore my respectful submission that the President was right, legally, morally and constitutionally, to have suspended Mallam Sanusi Lamido Sanusi as Governor of CBN. Not to have done so would have tantamount to creating a sacred cow, or a Frankenstein Monster out of a non-conforming Government employee with an over bloated ego and who fights his own Government with éclat and Joy. What a contradiction! What a paradox!!
The President could have easily removed Lamido from office under Section 11 (2) (C) of the CBN Act, if he so desired. This would be justified as the Section permits removal based on "serious misconduct". Can anyone argue that the copious infractions of the Law by Sanusi earlier enumerated above do not constitute serious misconduct? Are we going to allow a tyrannical majority or a vociferous minority that controls the media becloud our true sense of judgement, or even humanity?
All that is required for dismissal is two-third majority vote of the Senate. But the President has to first "remove from office" before he can request the Senate to approve the removal. What the CBN Act provisions therefore boil down to is that the President can remove Sanusi from office following due process; or suspend him, following no process at all since the Act suffers a lacuna in this regard. If Sanusi is unhappy with his suspension by President Jonathan, he has two options: go to Court for Adjudication; or appeal to the National Assembly to amend the CBN Act. Sikena!!!
________________________________________________________________
Article written By Chief Mike A. A. Ozekhome, SAN
Disclaimer
It is the policy of Newswirengr not to endorse or oppose any opinion expressed by a User or Content provided by a User, Contributor, or other independent party.
Opinion pieces and contributions are the opinions of the writers only and do not represent the opinions of Newswirengr