Boko Haram Leader, Shekau Threatens Attack On Refineries, Buhari, Babangida, Ban Ki Moon, Queen Elizabeth And Others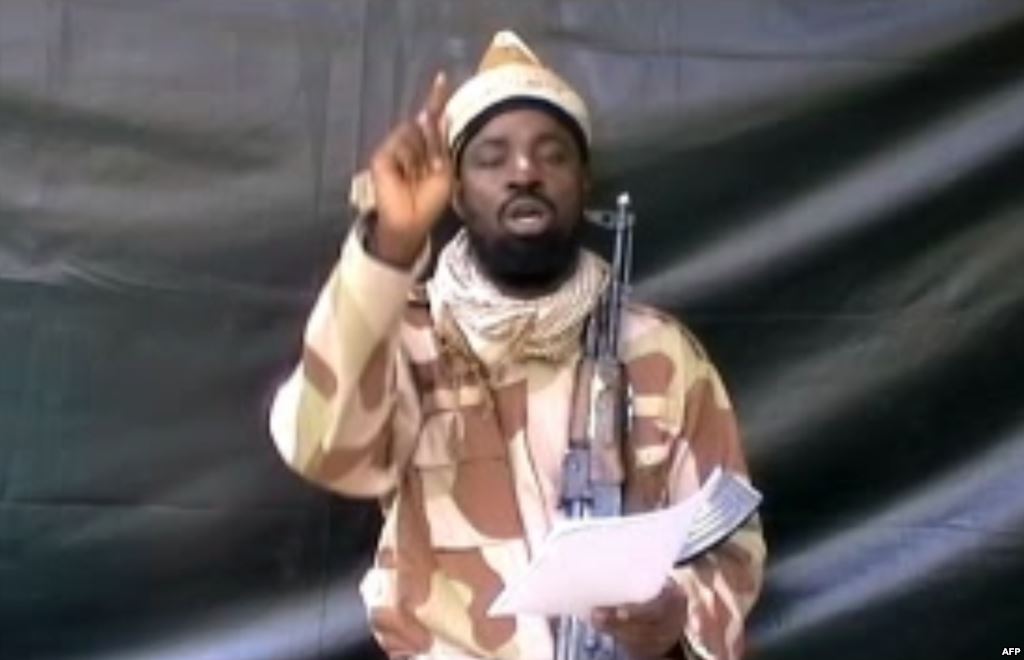 Estimated Reading Time: <1
Leader of the terrorist group, Boko Haram, Abubakar Shekau has threatened more attacks on the Nigerian nation, its refineries and sources of revenue. These threats were contained in a 28 minutes video released to journalists.
Shekau is a wanted man in both Nigeria and US for terrorism. His threats extend to some Islamic clerics, Political figures and others who support Western education and Christianity. He revealed that the state of emergency put in place in some Northern Nigerian stated cannot put his group at bay
More than 200 persons have been killed in the past fortnight across Borno. The Boko Haram menace began in 2009 in Northern Nigeria
The full text transcription from the video reads:
"My brethren…you should hold on to your weapons and continue fighting. Let them understand that our work is not confined to Yobe, Borno and Adamawa (states). Make them understand that we are not restricted by emergency rule. They should understand we are under the canopy of Allah.
"This is the beginning. Yes, this is the beginning.
"We Jama'atu Ahlissunnah Lidda'awati Wal Jihad are fighting Christians wherever we meet them and those who believe in democracy, those who pursue Western education wherever we meet them. By Allah, we will kill whoever practices Democracy.
"And you the infidels of Rivers state, Niger (Delta), the town of Jonathan, Shekau is talking to you (sounds of gunshots). Shekau is talking to you, that small boy that has become the nightmare of infidels is talking to you.
"Oh you the leader of the Niger Delta, you will soon see your refinery destroyed. You will in the incoming days see your refinery you are boasting about bombed. Our refinery is Allah.
"Niger-Delta you are in trouble. Jonathan you are in trouble…Banki Moon you are in trouble, Bejamin Natanyahu you are in trouble, Queen Elizabeth, you are in trouble, Babangida, Kwankwaso, Shekarau, Kashim, Buhari, you are in trouble.
"Yahaya Jingir…the cleric of Jos, the advocate of 'Boko Halal', right? We are Boko Haram, you are Boko Halal. You will see, bastard.
"We killed Albani of Zaria. We killed Albani of Zaria. Shekau killed Albani of Zaria.Tomorrow he will kill Jingir, the day after tomorrow he will kill Dapchia, the next day he will kill Wapchama, next he will kill Shehu of Borno, Ado Bayero. We rebel against you, between us and you is enmity and rancour until you believe only in Allah.
"The reason why I will kill you is you are infidels, you follow Democracy…Whoever follows Democracy is an infidel. This is Shekau, this is why I'm in enmity with you.
"Buhari is an infidel, Babangida is an infidel, Atiku is an infidel, late Yar'adua was an infidel, Shehu of Borno is an infidel. You are all infidels. What makes you infidels is Democracy and constitution and western education…I therefore call on brethren in Kano to rise up and replicate the Baga attack.
"All these infidels we are the ones killing them. We enjoy shedding their blood.
"The Koran must be supreme, we must establish Islam in this country; Not only in Borno, we will henceforth destroy any schools wherever we see them".