Lady Gaga Is On The Cover Of Harpers Bazaar Magazine (March 2014 Issue)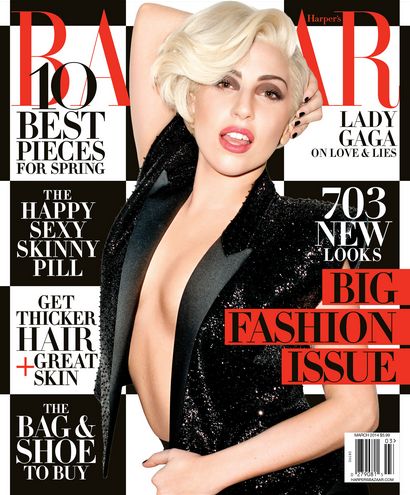 Estimated Reading Time: <1
You are just about to contract the Gaga-fever
Harpers Bazaar dares to feature Pop star, Lady Gaga on their March 2014 issue.
Gaga shows why she has won her self millions of fans who are willing to grovel at her feet. Harpers Magazine interviewed the Pop Queen in this issue about her split with long time manager, Troy Carter, her proposed performance in outer space and her career generally
Here is an excerpt from the interview:
HB: What's the biggest thing you've learned about yourself so far?
LG: I became very depressed at the end of 2013. I was exhausted fighting people off. I couldn't even feel my own heartbeat. I was angry, cynical, and had this deep sadness like an anchor dragging everywhere I go. I just didn't feel like fighting anymore. I didn't feel like standing up for myself one more time—to one more person who lied to me. But January 1, I woke up, started crying again, and I looked in the mirror and said, "I know you don't want to fight. I know you think you can't, but you've done this before. I know it hurts, but you won't survive this depression." I really felt like I was dying—my light completely out. I said to myself, "Whatever is left in there, even just one light molecule, you will find it and make it multiply. You have to for you. You have to for your music. You have to for your fans and your family." Depression doesn't take away your talents—it just makes them harder to find. But I always find it. I learned that my sadness never destroyed what was great about me. You just have to go back to that greatness, find that one little light that's left. I'm lucky I found one little glimmer stored away.
HB: Are you happy?
LG: Today, yes.
HB: What do you want written on your gravestone?
LG: "She spread love with every invention."
HB: What excites you about the idea of performing in space?
LG: I honestly can't wait. I can't wait to design the performance. I'm auctioning off my second seat [on a Virgin Galactic flight] to raise money for the Born This Way Foundation. I want to make a moment that is about much more than me. Performing in space is such an honor. I want to challenge myself to come up with something that will not only bring everyone together but will also have a message of love that blasts into the beyond.
To enjoy the complete interview, click HERE