Iyaeko.com Image Sharing Social Platform On Cultural Style Has A New Domain
Estimated Reading Time: <1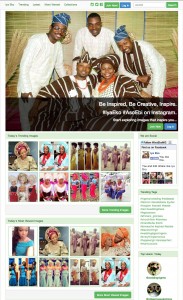 Press Release
London, 02 January 2014.
Cultural style has a new Domain.
"Ideas are no longer local. Information and communications technologies make them global. In a globalized world, information is an essential component of our life – it can lead to prosperity, or if misused, can drive us to confrontation and division."
When the UN High Representative for the Alliance of Civilizations (UNAOC), Nassir Abdulaziz Al-Nasser made the above statement at the Annual UNAOC Ministerial Meeting, held during the 68th session of the General Assembly in New York, little did he know that he would be inspiring the emergence of a social media community totally focused on promoting dialogue and inspiration among differentcultures.
The Iyaeko.com image sharing social platform is the brain child of computer scientistAdetola Oredope, who having carved a niche for himself in the industry, saw the need to create a platform that celebrates Fashion and Style in the most inspiring way possible across the globe. IyaEko was made available to the public on the 20th of December 2013 and 1 week after, had recorded a hit of over 8,000 views from over 1000 unique users – a success Adetola, who holds a PhD in Computer and Electronic Systems is proud to celebrate considering the fact that it was an initial test of the concept.
The IyaEko website prides itself in having the largest collection of culturally related fashion trends with over 16,000 images generated so far. The pictures are currently based on popular and carefully selected tags on Instagram; making it easy for users to sign in and share their pictures. The platform allows fashion enthusiasts to extract various trending fashion designs and styles that are culturally inspired. One trend the platform can boast of having the largest collection of is the 'Knot wrapper' – a fast growing fashion style from Africa.
Adetola is currently working round the clock to build the site to an enviable standard, as well as inputting customised features that would make it easy for users to stay on the site much longer and avenues at which manufacturers, designers, planners and retailers can attract new clients.
Commendations have started streaming in from users of the website, as one who used it for over 3hours had this to say – "Great project. Love the concept. E-ovation! The future is bright with amazing prospects"; coupled with the fact that prospective investors are already showing interest in partnering with the creator to making the website one to be reckoned with.
-End-
For further information, or request images or interviews, please contact: press@iyaeko.com or Tonny.williams@chastestconsult.com