Interim CAR President, Catherine Samba-Panza Sworn In, Calls For A Ceasefire
Estimated Reading Time: <1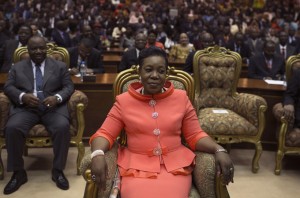 Interim President Catherine Samba-Panza urged fighters to put down their arms as she took the oath of office, even as looters pillaged Muslim neighbourhoods and sectarian tensions escalated in the anarchic Central African Republic.
Samba-Panza, the nation's first female leader, was sworn in at a ceremony on Thursday days after being chosen by a national transitional council. The rebel leader behind the March 2013 coup stepped aside nearly two weeks ago under mounting international criticism of his inability to control his fighters and stem the violence.
In her inaugural address, Samba-Panza urged both the Muslim fighters behind the coup and the Christian militiamen who rose up in opposition to support peace.
"I strongly call on the fighters to show patriotism in putting down their weapons," she said. "The ongoing disorder in the country will no longer be tolerated."
Central African Republic has been wracked by sectarian violence for months, with more than 1,000 people killed in Bangui over the course of several days in December alone. Nearly 1 million people have fled their homes, with 100,000 of them living in and around the Bangui airport being guarded by French soldiers.
UN officials have warned that the crisis is at high risk of escalating into a genocide, driven by fighting between Christian and Muslim communities in the country with a history of coups and dictatorship.
In the hours leading up to her inauguration, tensions flared across Bangui. Hundreds of Christians went on a rampage on Wednesday, looting and setting fire to Muslim-owned homes and businesses and threatening to go on a killing spree.
Growing threat
Rwandan peacekeepers and French forces intervened late on Wednesday to rescue about 30 Muslims trapped inside their homes by marauding gangs in the PK13 district of Bangui, witnesses said. The help arrived after international human rights activists pleaded for help for the families.
"If these people are not evacuated within the next hour, they will be dead tomorrow. As soon as we leave they will be killed," said Peter Bouckaert, emergency director at rights group, Human Rights Watch.
As night fell, French forces provided a truck to take the family and their few belongings to a nearby refugee camp of Muslims under international protection.
Muslim civilians have come under growing threat following the 10-month rule of coup leader Michel Djotodia and his mostly Muslim fighters who were blamed for scores of atrocities against the predominantly Christian population. A Christian militia launched a coup attempt last month that unleashed bloodshed.
African countries have contributed some 4,600 peacekeepers to Central African Republic, and France has sent 1,600 troops. Among the countries helping is Rwanda, which suffered through genocide in 1994 that left more than 500,000 people dead.
Additional contents, Aljazeera