Chief Of Defence Staff Takes Over Office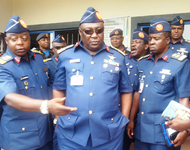 Estimated Reading Time: <1
NAN
Air Marshal Alex Badeh on Monday in Abuja took over as the Chief of Defence Staff, following his appointment on Jan. 16 by President Goodluck Jonathan.
The new CDS, who hails from Adamawa, was born on Jan. 10, 1957 and joined the Air Force as a member of the Nigerian Defence Academy's 21 Regular Course.
He was commissioned as a pilot officer on July 3, 1979.
Until his new appointment, Badeh was the Chief of Air Staff.
Speaking during the handing over ceremony, Badeh said that he would do his best to contribute to the stability of the country.
According to him, the situation in the country demands unity of effort.
"Therefore we must understand the strengths and limitations of each party of securities and know how to use these capabilities to achieve success.
"Let us all put our hands on desk to face this challenge squarely so that government can concentrate on national transformation.
"I look forward to working seriously with my colleagues and other stakeholders so the security situation in the North-East can be brought to a halt.''
Earlier, the outgoing Chief of Defence Staff, Adm. Ola Ibrahim, said that the country expected the armed forces to discharge their duty with honour, integrity and irreproachable goodwill.
Ibrahim emphasised the need for the armed forces to help the country's democracy to grow and not to act in any way to undermine it.
"These are challenging times for the armed forces of the federation; we have learnt a lot of lessons managing crises in the North-East and elsewhere in the North-Central.
"Like I often say, by these experiences, our armed forces will come out of these challenges stronger and I pray your team will draw from all these experiences.
"Let me quickly pray that the cooperation I enjoyed from the outgoing service chiefs will be extended by this group of service chiefs to my successor.
Similarly, while taking over as the new Chief of Naval Staff, Rear Adm. Usman Jubrin, said that he would sustain the fight against oil theft as the ocean remained an important vehicle for national development.
Jubrin said that he was not ready to take a journey that was unrealisable, adding that "no leader rises above the collective intellect of the group he leads.
"I solicit the cooperation of my colleagues to continue the programme of transforming the Nigerian Navy.
"I will be looking at effective training and the right means of operation and welfare packages; we will play within the rules so that we can check the myriad of security challenges in the maritime sector.''
The out-going Chief of Naval Staff, Vice Adm. Dele Ezeoba, urged Jubrin to continue from where he stopped as a lot of transformation and projects were ongoing in the Navy.
Ezeoba called on officers and men of the navy to extend the cooperation given to him to the new Naval chief.