I challenge Anybody To Bring Evidence That Jonathan Signed A Single Term Deal – Akinjide
Estimated Reading Time: <1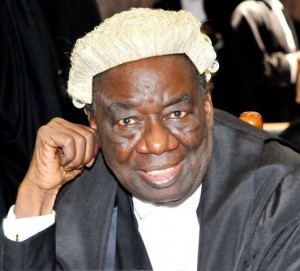 A former Attorney-General of the Federation, Richard Akinjide, has declared that Nigerian President, Goodluck Jonathan has the rights to seek re-election at the 2015 elections.
The veteran politician and former Minister for Justice, made this declaration on Channels Television's 'Politics Today'.
"It is not true that he agreed that he would not run". Revealing that he was part of the system and there was never a time that such an agreement was signed, he said: "I challenge anybody to bring evidence to dispute that."
In spite of the crisis and the decamping of governors and lawmakers from the People's Democratic Party, PDP, Akinjide assured members of the party that the party was not falling apart, as politics without altercations and debates is not politics. He expressed belief that after the elections, the party would come out stronger and still produce the next president of Nigeria.
He said: "I like the altercations going on but the flogging, beating, destroying of cars is what I don't like" as he condemned the political crisis that has engulfed Rivers State in South-South Nigeria.
He also said that he did not accept that the aggrieved governors and lawmakers had left the PDP; else they would have resigned their positions as stated in the Nigerian Constitution.
In dismissing the claims that the constitution provided for decamping if there was faction in their party, Akinjide argued that there was no split in the PDP and that legally the governors and lawmakers were still members of the PDP as they must resign their positions for them to decamp to the APC.

Obasanjo Should Never Have Released His Letter To The Media
Speaking further on the PDP crisis in relation to former president, Olusegun Obasanjo, and his public criticism of President Jonathan, Akinjide noted that both Jonathan and Obasanjo were well known to him and they were good men who have both done well for Nigeria. However, what Nigerians must avoid is excessive criticism in the papers; "we overdo it and overkill ourselves."
Although, He refused to condemn the validity of the claims in the 18-page letter written by Obasanjo to the President, he stated that he would never have put such letter in the papers if he was Obasanjo. "Some things should be kept highly confidential".
He revealed that during his time as the Attorney-General of the Federation, he wrote several letters of such importance but they were never made public as confidentiality was very important in governance.
Assuring Nigerians that both men have done well and would continue to do so, he appealed to leaders to be very careful about what they say to the public.
On President Goodluck Jonathan's performance, he said "He is a good President" and he would give him 80% to 90% if he was asked to score him. He added that Jonathan would turn out to be one of the best presidents Nigeria ever had.
Source: Channels TV