UN Shuts Headquarters In New York Over Weather Conditions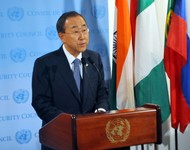 The UN Headquarters complex in New York has been closed as a result of the snow and weather conditions across the U.S., the News Agency of Nigeria (NAN) reports.
A statement issued by Marija Rokuiziene, the UN Media Accreditation and Liaison Unit, Department of Public Information on Friday stated that all meetings at the headquarters have been cancelled.
Similarly, a state of emergency was declared in New York and New Jersey, ahead of the storm that dumped up to nine inches of snow on parts of New York City.
Six inches of snow had accumulated in Central Park, located in Manhattan, the most densely populated of the five boroughs of New York City and nine inches of snow in Green Point, Brooklyn.
The snow and weather conditions forced over 4,000 flights cancellations, while highways and the New York City school system were also shutdown.
The Mayor of New York, Bill de Blasio, on Friday, advised New Yorkers to remain off the roads and take caution in the cold.
He said "this has been and remains a dangerous storm. It is going to be bitter cold today, and New Yorkers need to be extremely careful going outdoors.''