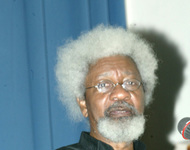 On behalf of himself and the Federal Government, President Goodluck Jonathan extends sincere condolences to Prof. Wole Soyinka and other members of the Soyinka family on the death of the Nobel laureate's daughter, Iyetade  at the age of 48.
Noting that Iyetade's untimely death at such a young age must be quite painful for Prof. Soyinka and his family, President Jonathan prayed that God Almighty will comfort Prof. Soyinka and all others who mourn his late daughter.
He urged them to take solace in the belief that Iyetade has gone away from all earthly troubles to rest for eternity in God's bosom.