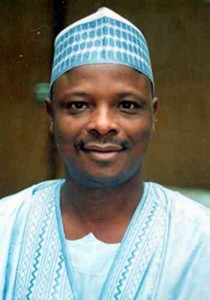 The Government of Kano state has noted with utter disappointment and surprise, the arrest today (Monday) by the EFCC, of the Speaker of the State House of Assembly, Hon. Gambo Sallau, principal officers and Clerk of the House.
In an address to members of the press at the Government House, Kano today (Monday), the state Governor, Rabi'u Kwankwaso stated that the public officials were apparently arrested in connection with the budget amendment of 2013 of the State Government, which has already been signed into law by the state governor, Rabi'u Musa Kwankwaso.
The governor observed that the Speaker and his colleagues are only exercising their constitutional responsibilities of ensuring that budgets are properly articulated, to ensure probity and accountability in public expenditure, so that in the end, the citizens enjoy dividends of democracy.
"It is Chrystal clear that the above mentioned public officials were arrested by the EFCC on the orders from the above, because of the legislators' defection to APC, in support of Governor Kwankwaso", he stated.
"This action is obviously to intimidate and cow them into submission for choosing to move to the progressive fold. This action is not only despicable and absurd but also capable of igniting crisis in the polity, thereby breaching the relative peace that is being enjoyed in Kano state", he added.
According to the governor, it is regrettable that the EFCC is allowing itself to be a tool of witch-hunt in the hands of powers that be.
Arrested alongside the Speaker, Alh. Gambo Sallau, are the Deputy Speaker, Isyaku Ali Danja, the Chief Whip, the Deputy Chief Whip, Majority Leader and Deputy Majority Leader.
The rest are the Minority Leader, Deputy Minority Leader, Chairman House Committee on Appropriation, Chairman House Committee on Finance and Clerk of the House.