FIFA Ranking: Nigeria Drops To 37th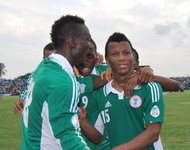 The country was ranked 36th last month.
The ranking table on the World governing body's website on Thursday showed that though Nigeria still had 710 points, it dropped by one spot.
However, in the December ranking, Nigeria retained its fourth position in Africa behind Cote d'Ivoire, Ghana and Algeria.
On the global scene, Spain maintained the first spot, ahead of Germany, Argentina and Colombia, who followed in that order.
The News Agency of Nigeria reports that next FIFA ranking will be published on January 16, 2014.
Nigeria has dropped to 37th spot in this month FIFA World ranking released on Thursday.