Atiku Calls For Summit To Chart Way Forward For Nigeria's Failing Education Sector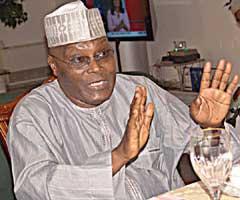 Atiku made the suggestion in response to the call-off of the five months old strike by ASUU over non-implementation of the 2009 agreement with the Federal Government.
According to a statement by his media office, the former Vice President hailed the decision of ASUU to call-off the strike and hoped that it would afford all parties a needed opportunity for a reset of the nation's education sector.
He noted that though the call-off the strike is coming late, he nonetheless appreciated the willingness of both ASUU and government to find a common ground in the interest of Nigerian university students in particular and the nation's education sector in general.
Atiku urged ASUU and FG to put in a place strong mechanism for resolving crisis of this nature to ensure that it does not fester and disrupt academic studies in future.
He said, "It has become imperative for ASUU, the Federal Government and other stakeholders to put in a place a mechanism for addressing crisis of this nature so that our students and their parents will not be visited with prolonged closure of our universities in future with its concomitant effects,".
The former Vice President who had initiated an online petition to end the strike, regretted the extended loss of time arising from the closure and its adverse effect, which he said will be borne in the main by the unlucky students and their fee-paying parents.
He noted that education remains the game changer in our quest for scientific and socio-economic development and called on the Federal Government, ASUU and other stakeholders to convoke an Education Summit to chart a way forward for our failing education sector.
Former Vice President Atiku Abubakar has called for the convening of an education summit to chart the way forward for the nation's failing education sector.