There Is A Plan To Assassinate Me Ahead of Re-run Elections, Rivers Governor Nyesom Wike Says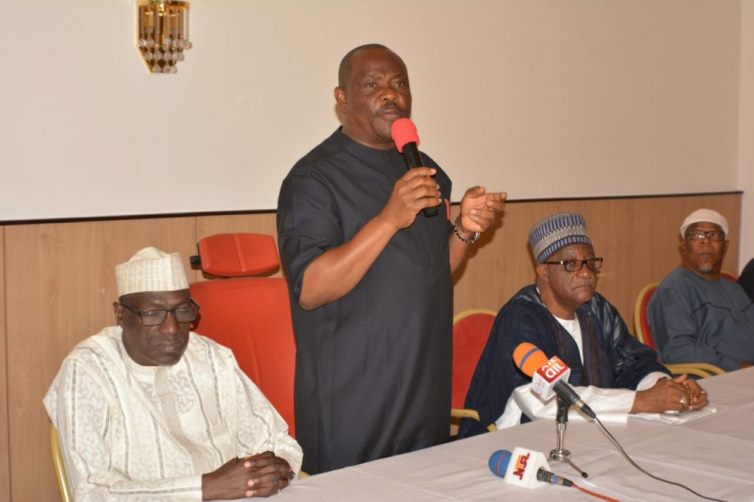 The Governor of Rivers State, Mr Nyesom Wike is claiming that there is a plan to assassinate him.
Although he did not mention the persons or group that had issued the order, he said two police officers had been mandated to kill him.
Governor Wike is making the allegation few days to the legislative re-run election of December 10.
It is one of the issues that the governor has put forward, as tension continues to rise ahead of the election rescheduled due to violence and other irregularities on the the day it was earlier held.
Insisting that the Peoples Democratic Party (PDP) will sweep the polls, he highlighted that Rivers State was not Ondo or Edo State were his party lost in governorship elections to the All Progressives Congress (APC).
"Rivers State is not Ondo State. It is not Edo State. If you have taken the history, you will know. Where are they going to come from?
"Except they kill everybody and I know that they cannot kill everybody. There will be those that will remain.
"Just like they have boasted that they are going to assassinate me," he said.
On the alleged plan to assassinate him he further claimed "an Instruction has been given to two police officer to make sure…. and that nothing will happen.
"I have written to the IG [Inspector General of Police] several times and the IG will not listen".
Listing the officials, he said that those that had given the order for him to be assassinated had made it clear to people that nothing will happen after he had been killed.
"I am letting you know that for my party, politics is not a do-or-die affair.
"For me the election is not a must win. It is not a do-or-die affair, but I will protect the people's votes," Mr Wike told Seun Okinbaloye on Politics Today on Sunday.
He further dismissed claims that the PDP had used Federal might to win elections, insisting that the party could have also won elections in other states, if it had used federal might.
On why he had suspended a mono-rail project that his predecessor, Mr Chibuike Amaechi, had initiated, considering the fact that government is a continuum, he insisted that when a project had gulped so much fund without any meaningful outcome, such project should be done away with.
"Even when a project is bad, will you continue because the government is a continuum?" he questioned.
He said that the state had put over 50 billion Naira in the mono-rail project and would need to add over 40 billion Naira in the project.
Governor Wike insisted that he would not continue a project that would not make so much contribution to the transport system and which would at the same time gulp the state's revenue.
On what he intends to be remembered for at the end of his tenure, he said unity of the state and restoration of the state to its usual state as the garden city were his desire.
Mr Wike further asked the former Governor Chibuike Amaechi to allow posterity and not destroy the state by pushing his interest even after he had served two terms.