In Kaduna, The War Between Governor El-rufai And Senator Shehu Sani Gets Messy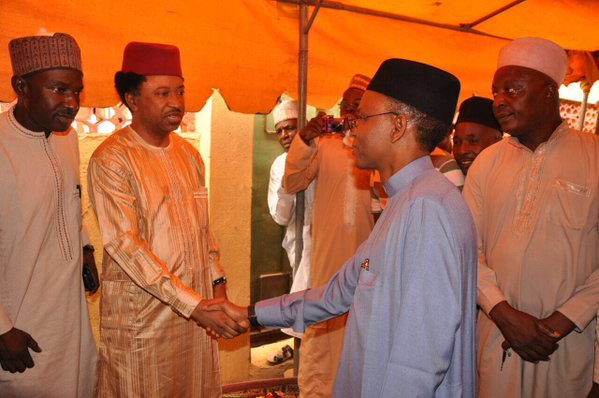 Senator Shehu Sani and members of Akida, a pressure group within Kaduna State chapter of All Progressives Congress, APC, yesterday alleged that Governor Nasir El-Rufai has threatened to deal with them and and called on security agencies to look into the matter.
But Kaduna State chapter of All Progressives Congress, APC, has described the group and Senator Shehu Sani, as partners in mischief and indiscipline.
APC Akida, which was formed last week in Kaduna, has Mr. Tom Maiyashi, as its chairman, while Senator Shehu Sani, APC, Kaduna Centrral, Isa Hashiru, who contested the governorship ticket of the APC with El-Rufai, and Dr. Hakeem Baba-Ahmed, former Secretary of Independent National Electoral Commission INEC, among others, are members.
Addressing a Press Conference in Kaduna yesterday, the Public Relations Officer, PRO, of Akida, Mallam Mustapha Mohammed, who spoke on behalf of the group, said: "We are here today to alert the general public, security agencies, members and the leadership of the All Progressives Congress on a serious issue that has to do with the safety and lives of many prominent individuals and some citizens of Kaduna State.
"On Saturday, June 4, 2016, a town-hall meeting was held at Giwa Local Government Area of Kaduna State, while responding to one Ayuba Ragas who advised Governor Nasir El-Rufai to reconcile with the APC Akida group, he (governor) described himself as the man with the big shoes that will crush, trample and destroy the ants' (in reference to members of the APC Akida).
"I am ready for the useless people who call themselves APC Akida. The scene is like that of a man wearing a big shoe being confronted by ants, the man wearing the big shoe will crush, trample and destroy the ants.
"This unwarranted threat, coming from a man who has the resources and state security apparatus at his beck and call is very disturbing and such comments should not be swept under the carpet because it has the power to push some over zealous thugs of the governor to maim and attack the supporters of the true APC AKIDA."