'Replacing Mark Would Be Retrogressive To The Idoma Nation' – Senator Mujitab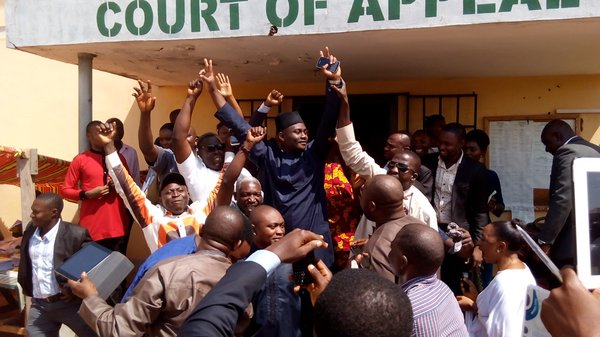 By Chris Orteri
Elder statesman and former lawmaker, Senator Mallam Mujitab, from Jigawa State has conceded that any plans to replace embattled former Senate President, Senator David Mark; is a retrogressive move by Idoma people.
It would be recalled that in December 2015, the Court of Appeal had nullified the election of former Senate President, David Mark and called for a fresh election in Benue South senatorial district. The ruling meant a fresh polls between Senator Mark and his main opponent, David Onjeh of the All Progressive Congress (APC), in the polls, scheduled for February 2016.
Senator Mujitab describes Mark as the "number one politician in Idomaland, stating that any attempt by the Idomas to replace him with another person will amount to political retrogression."
He said this while addressing the Idoma league of editors and publishers, who paid him a courtesy call. He urged them to take the message to the Idoma nation at the grassroots in order to mobilize support for Senator David Mark in the February re-run.
Speaking on Senator Mark's achievements and national recognition, Senator Mujitab said Mark has succeeded in putting Idoma nation on a national political scale and recognition, while also building bridges across Nigerian political scenes for the Idoma nation.
According to him "Senator David Mark's national political standing has put the Idoma nation on a national political recognition and standing due to his various achievements in terms of his famous steps to stabilize the National Assembly and his ability to build bridges across the various stakeholders within our national polity.
"The Idoma nation has succeeded in producing somebody who has built bridges up across the nation. Mark is somebody who is even on the verge of becoming the next president. It's not a close secret. Everybody knows this fact. Various stakeholders within the Nigerian polity know Senator Mark as somebody with credibility that has built national goodwill, somebody with national standing.
"And to add, it is going to be the greatest political retrogression in this political dispensation, if Idoma as a nation makes the grave mistake to substitute Senator Mark with a small boy who people will not listen to. Quote me anywhere; it is going to be the greatest political retrogression.
Speaking on how disappointing it would be to the entire nation should Mark not returned to the senate, Mujitab said it will be mockery of the Idoma nation at the state level in particular and at the federal level in general.
He said, "if now, Idoma as a nation, with all the intellectuals, with all the academicians, and with all the political experienced people would even attempt to do away with Senator Mark and bring a new person, then I think it will become a laughing stock in the Nigerian political scene.
Senator Mujitab, skilled in political happenings, deeply lamented at what is going on in Idoma nation, noting that it is politically saddened that Idoma nation does not recognize the value of their nationally accepted number one man. He added that such thing couldn't happen in his place.
He advised Idoma nation saying, "therefore, I think, this message must be extended to all well meaning sons and daughters of the Idoma nation.
"The achievement you have recorded in politics, the standing you have at the national level now demand that you must not bring somebody that is of lesser status of David Mark.
''If at all, Idoma nation must change, why changing from somebody who has created history to somebody who is just a starter?
"If anybody is saying let's change Mark, then change him for somebody who is more credible, nationally accepted, who can fight for the course of Idoma nation, who can talk and people will listen to him, somebody who has made the connection here and there, somebody who can reach out.
"If you lose the federal leverage, you have already lost at the state level. The only leverage Idoma nation has now is the quality of representation in terms of somebody who has become a national political figure. This is nothing but the truth!"
''This is a general opinion of friends of Idoma nation. It is the talk of town. The question we are asking is, who is that man that is contesting with the number one Idoma political figure?"