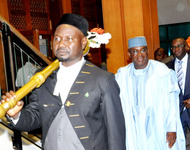 Former resident of the Senate, Senator David Mark was Wednesday sworn in for six record time as a Senator .
The swearing in ceremony which was conducted by his successor, Senate President Bukola Saraki was amidst an uncommon solidarity as the Senators gave Senator Mark a standing ovation.
As soon as Senator who wore white Agbada with his traditional Idoma cap walked in, the senators clapped at his arrival as they welcomed him back into the senatorial wings with shouts of the youngest and most ranking.
Senator Mark was sworn in at exactly 11 am in the hallowed chamber after taking the traditional oath of office and allegiance.
After he was sworn in, he walked to Bukola Saraki, the Senate President to give him a handshake.
Shortly after the swearing in, Senators at the plenary session rose in solidarity with Senator Mark as they took turns to hug and exchanged banners with him.
Senator Barnabas Gemade who represents Benue north east senatorial district showed his happiness over the return of Mark by hugging him twice.
Other lawmakers who were all smiles stood by the aisles as Mark walked through shaking hands with his colleagues.