Trouble For Nigeria As Crude Oil Falls Below $35 Per Barrel For 1st Time Since February 2009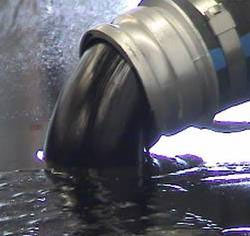 Oil fell below $35 a barrel in New York for the first time since 2009 as Iran reiterated its pledge to boost crude exports, bolstering speculation OPEC members will exacerbate the global oversupply, reports Bloomberg.
Futures fell as much as 2.7 percent to $34.67 a barrel in New York, the lowest since Feb. 19, 2009. They lost almost 11 percent last week, the biggest drop in a year. There's "absolutely no chance" Iran will delay its plan to increase shipments even as prices decline, said Amir Hossein Zamaninia, the nation's deputy oil minister for international and commerce affairs. Speculators in the U.S. have raised bearish bets to an all-time high.
Oil slumped last week to levels last seen during the global financial crisis, while speculators increased bets on falling U.S. crude prices to an all-time high after the Organization of Petroleum Exporting Countries effectively abandoned production limits. The supply glut will persist at least until late 2016 as demand growth slows and OPEC shows "renewed determination" to maximize output, according to the International Energy Agency.
"Gloom nourishes gloom," said Eugen Weinberg, head of commodities research at Commerzbank AG in Frankfurt. "The market is fully acknowledging that OPEC is no longer in price-control mode or providing a floor, and that the group is unlikely to change that strategy any time soon."
WTI for January delivery fell as much as 95 cents to $34.67 a barrel on the New York Mercantile Exchange and was at $34.80 at 11:46 a.m. London time. The volume of all futures traded was 35 percent above the 100-day average. The aggregate volume of monthly WTI contracts climbed to a record of 1.596 million on the Nymex on Dec. 8. Each contract corresponds to 1,000 barrels of oil.