Sacked Rivers State Governor, Nyesom Wike Says – "I've Confidence In The Judiciary Despite Verdict"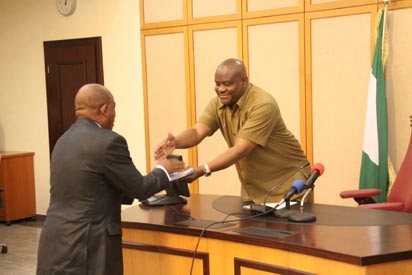 Sacked Rivers State Governor, Nyesom Wike has declared that he had absolute confidence and respect for the Judiciary to do justice in the state governorship legal tussle.
He also expressed confidence that the judiciary would in the course of the appeal uphold the mandate he got from the April 11 governorship election.
The statements came as Rivers State Stakeholders on Friday declared their support for Wike as a duly elected governor of the state.
The stakeholders included elected senators, House of Representatives members, traditional rulers, elder statesmen and state legislators.
Speaking at the Stakeholders meeting at the Government House, Port Harcourt, Wike advised the people of the state never to criticise judges despite the judicial setback, pointing out that the appeal process would correct the judicial opinion of the state tribunal.
His words: "Be assured by the Grace of God our lawyers are working hard to file the appeal within stipulated time. I have told people that it is not in our character to cast aspersions on judges. I have also told people not to speak on my behalf to castigate judges. The tribunal is not the final appellate court on this matter. There is no need of castigating the judiciary.
"We are not one of those when judgment favours you, you say you have confidence in the judiciary. When it does not favour you, you lose confidence in the judiciary.
"I want to say in the past two days, you must have read where they quoted me as saying judicial terrorism or judicial gang-up, I never said so. And I never authorised anybody to say so on this matter".
The sacked governor noted that his team of lawyers were working round the clock to complete the process of filing an appeal against the judgment.
He assured the people that he was not distracted by the judgment, adding that he was emboldened by the support of key stakeholders and the ordinary people to continue to discharge his responsibility to the people.
He told the stakeholders the Appeal Court judgment of Thursday striking out the paragraphs of the APC petition that alleged violence and crime against named and un-named security agents and political thugs had strengthened his case that would shortly go on appeal.
In his remarks, Acting National Chairman of the Peoples Democratic Party ( PDP), Prince Uche Secondus, stated that the people were behind Wike against the struggle by external forces to invade the state.
Also speaking, Senator George Sekibo said Wike was duly elected and his election would be upheld in the course of the appeal.
Former Minister of Transport, Dr. Abiye Sekibo; former UBA Chairman, Chief Ferdinand Alabrabra; and Former NBA President, Chief OCJ Okocha, on behalf of different sections of the state declared the overwhelming support of the people for the governor.