Senators Divided Over Amaechi, Committee Recommends Stay Of Action On His Screening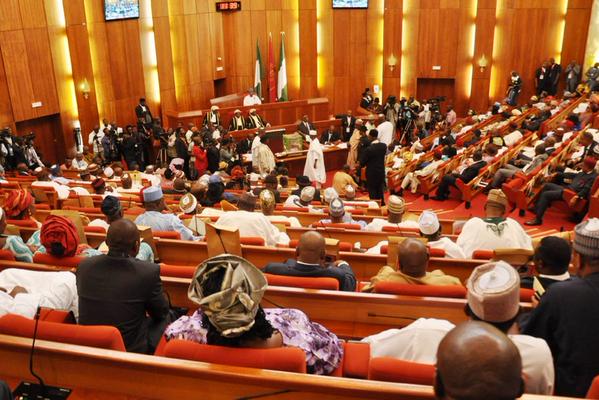 Hope of the embattled for­mer Governor of Rivers, Chi­buike Amaechi, appearing before the Senate, as other ministerial nominees, has fur­ther dimmed, as the Commit­tee on Ethics and Public Peti­tion may have recommended a stay of action on his screening. This has, however, split the Senate.
Daily Sun gathered that the committee, which will for­mally submit its report to the Senate tomorrow, made the recommendation based on the complexity of Amaechi's case.
A member of the commit­tee headed by Senator Sam­uel Anyanwu, revealed that members took cognizance of the white paper submitted to it by the current Rivers State government, which indicted Amaechi. In addition to that, he said the committee looked into the merits and demerits of other petitions against the for­mer Rivers governor.
"We made some recommen­dations on the case and that of other nominees. We felt that there should be a stay of action on the screening until some is­sues are addressed," the source said.
Apparently sensing the outcome of the committee's investigation, Amaechi, last week, wrote the leadership of the Senate advising it to dis­countenance the White Paper indicting him, arguing that it lacked the force of law.
Amaechi claimed that he was innocent of the allegations of corruption for which he had been indicted by the Judicial Commission of Inquiry chaired by Justice G.O. Omereji.
The letter, signed by his counsel, Edward Pepple and dated October 12, 2015, fur­ther stated that the Supreme Court had emphasised in a case involving former Vice President Atiku Abubakar "that an indictment by judi­cial commission of inquiry or administrative panel is not an 'indictment' was not sufficient for the purpose of preventing a person from holding a public office."
The letter added: "Section 182(1)(i) only enables a ju­dicial commission of inquiry or administrative tribunal to determine the culpability of a citizen, where it is alleged that such citizen has been in breach of standards of behaviour ex­pected in public life.
"Where such inquiry finds a citizen liable or culpable of a conduct bordering on crimi­nality and the federal or state government accepts such a re­port through a published white paper, it is still not enough to deny a citizen eligibility to the office of governor unless and until he is afterwards prosecut­ed in a court of law and found guilty.
"Mr. President, we have no doubt that the Senate being an arm of government established under the Constitution of the Federal Republic of Nigeria verily appreciates the general principle of the rule of law, hence the invitation extended to our client to respond to the petition."