#MinisterialScreening Day1: Amina And Fayemi Dazzle, As Lai Mohammed Treats Senate To Six Bows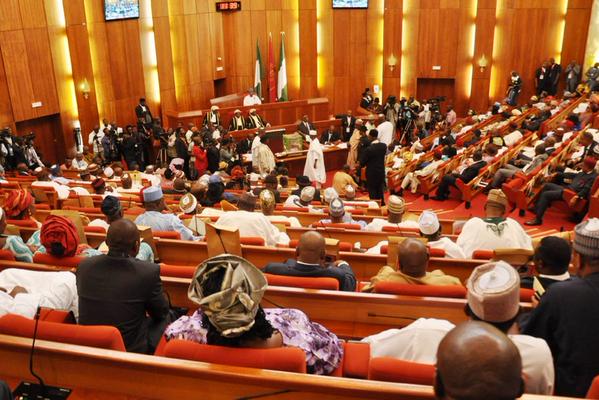 By Chris Nomjov
The Nigerian Senate, today, screened the first set of ministerial nominees in the Upper legislative chambers of the National Assembly. In all, ten (10) nominees were pencilled for the first day of screening.
Among the first set of nominees screened on the floor of the Senate were erstwhile Senator Udo Udoma; former PDP National Chairman and current APC party stalwart, Audu Ogbeh and former United Nations executive, Amina Mohammed. Also screened were former Governor of Ekiti state, Kayode Fayemi and the Publicity Secretary of the ruling All Progressive Congress (APC), Lai Mohammed. Others were Ogbonnaya One, Osagie Enahire, Slamannan Adams, Ibrahim Jubril and Abdulrahman Danbazzau.
True to its tradition of according former lawmakers the privilege to 'bow and go', former Senator from Akwa Ibom state, Udo Udoma was asked to take a bow without questions.
Former governor of Ekiti State, Kayode Fayemi was barraged with questions, one of which was his alleged furnishing of the Ekiti state government house, with exorbitant sums from the State's treasury, while he was Governor. Fayemi stressed that, under his watch, the furnishing for the Government House, Ekiti was the least across the federation. He went further to brilliantly address other concerns raised by the Senators before taking a bow.
A rare show of respect was accorded Lai Mohammed, as the APC mouthpiece was asked to take a bow and go, without any questions. Though, a gesture reserved for former lawmakers, Mohammed was cleared to take a bow and go. This was not before the APC Scribe shared his history in the 'opposition'; after which he took six bows, amid cheers.
Another notable nominee was Amina Mohammed. The former United Nations official, survived a petition against her nomination, as she was deemed ineligible by some people in Kaduna; having originally come from Gombe and married from Kaduna. Mrs. Mohammed gave detailed analysis of her work in the Millennium Development Goals (MDGs) office and how that experience can factor in her contribution to national planning.
On his part, former PDP National Chairman and current A.C chieftain, Audu Ogbeh, enjoyed a smooth screening; refusing to comment on his alleged resignation as PDP Chairman at gunpoint. Notably, Chief Ogbeh decried the 'intellectual ghettos', that are Nigerian universities and pledged his desire to do his bit towards the change, the country desires.
Other nominees for the day, were all screened without any major drama, as the Senate passed all 10 nominees, clear to proceed as Ministers in President Muhammed Buhari's cabinet. The screening would commence tomorrow with another set of nominees.