Adamawa Governor Partners Religious Organisations To Combat Boko Haram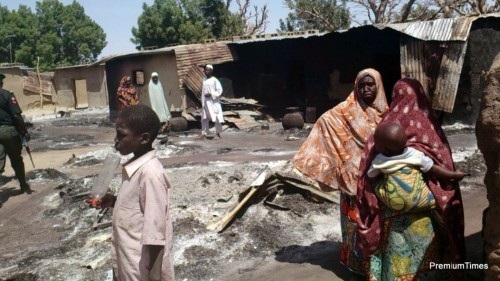 Adamawa State governor, Umar Jubrilla Bindow has approved plans to include religious and local non-governmental organisations to improve the state's management of security response and rehabilitation of internally displaced people hosted by the state.
The state government recently announced the setting up of a N200m security budget, of which over N50m will form a part of the state's internal contribution to co-funding the counter-insrugency operations, and vigilante and intelligence gathering, while about N50m will go into helping manage the internal refugee crisis. Adamawa State currently hosts Nigeria's largest population of IDPs, who have mostly come into the state from Borno and Yobe States. A part of the funds will be directly managed by organisations which until now had been helping to manage community based restoration and rehabilitation of victims of the insurgency, independent of the government.
Speaking to the press, following a closed door meeting on security with stakeholders in the state, the governor remarked that local and religious organisations are closer to the people at the grassroots, making them valuable partners in local security response and post incident recovery.
"The country is facing a guerrilla-style insurgency, which is different from conventional warfare. We are affected, our neighbours are affected too, maybe more than we are. It is important that the state adopts a community based approach to response, both in terms of assisting the military effort, and in rehabilitation. We must also contribute to the intelligence and vigilante effort, because this is our home. Our resources may be meagre, but we must assist the Federal Government's effort in eliminating the insurgency."
"Contrary to press reports that the state is paying religious leaders to pray, the state governor is adopting a grassroots based model, which incorporates stakeholders with clearly defined objectives – including partnering and supporting the peace building, charity and IDP support work of the religious and non-non-governmental organisations in the state."
The governor's office also stated that organisations like the Adamawa Peace Initiative, a non-governmental organisation, is one of the organisations the state intends to work with, due to their history of positive results and accountability with resources.
"The API, which is an umbrella organisation, including Muslim, Christian, civil society, business and local leaders, has been active in promoting peace and mediating in conflicts within Adamawa, with very significant results. API has also been active in helping manage the IDP crisis in the state, which is significant because Adamawa is host to the largest concentration of IDPs in Nigeria."
"Because these organisations and religious leaders have been active and accountable in the peace building, security information mobilisation, IDP charity, and rehabilitation of insurgency hit communities with very limited resources, it is only sensible that the state supports them officially."