"General Buhari Is Not My In-Law" Says INEC Interim Chairman, Mrs Zakari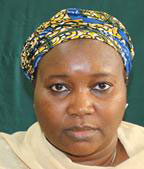 Reacting to the rumour making rounds in the country that she is Buhari's in-law, the acting Chairman, Independent National Electoral Commission, Mrs. Aminat Zakari, has come out to refute the rumor.
In an interview with Saturday Punch in Abuja on Friday, she said: "General (Buhari) is not my in-law. I am not married to his son. My daughter is not married to him. That is what I understand about being an in-law, but obviously, in life, you have acquaintances, people you have known," she said.
Buhari is not known for nepotism, she said, "God decides who becomes (a) leader; if God decides I would be the one to continue, I will have to do my best."
She stated, "I did not lobby for it (acting chairmanship). I had packed all my things out of INEC; I wanted to leave on the 30th (of June).
"I was just called on my way home as the chairman (Jega) handed over to Ambassador Wali. When I was called that the Head of Service was looking for me and I said, 'what for?' and I just continued driving. I was by Bullet House by the time I got the call and I just continued driving.
Reacting to those who insinuated she cannot perform effectively as INEC Chairman because of her gender, she said she was not desperate to retain the job in a substantive capacity.
She stated, "I am a human being first. I have the capacity. If I have the ability to do something and there are ways and means of achieving your targets. You don't rely on your brain alone. You have other people to rely on. I have done administration. I have worked in organisations that demand accountability."
The INEC acting chairman explained that she was not appointed commissioner in INEC by Buhari, adding that former President Goodluck Jonathan had appointed her.