Nigerian Senate Confirms Uche Chukwumerije's 'Shocking' Death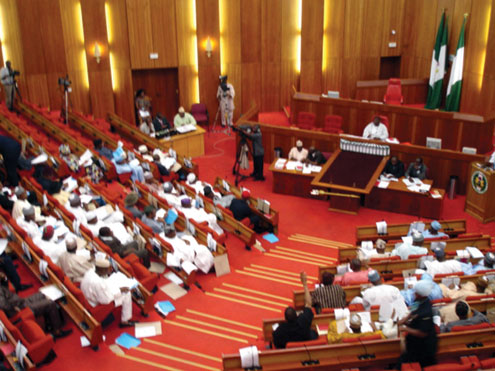 by Deji Abiodun
The Senate announces with heavy heart the death of Senator Uche Chukwumerije yesterday evening in the Turkish Hospital, Abuja.
Senate President Senator David and his deputy Ike Ekweremadu have expressed shock and Sadness over the death of Senator Uche Chukwumerije .
Senator Mark stated that Nigeria has lost an erudite and extra ordinary nationalist .
The Senate President in a press statement issued by his chief Press Secretary Paul Mumeh lamented that Chukwumerije was one of the brightest and fertile minds in the Senate.
" He radiated intelligence, exemplary conduct in both public and private life. He was a team player who brought meaning to hard work . He was focused and determined to make positive difference", Senator Mark stated.
In the Senate, Senator Mark noted that Chukwumerije was a shinning light and a pathfinder .
" We shall miss him. No doubt he left a vacuum that would too hard to fill .
He was a consummate and passionate NIGERIAN who believed in the sanctity of the peace and unity of the nation", the senate President stressed,.
Meanwhile, Senator Ekweremadu while reacting to the passing on of the ranking Senator who died in Abuja on Sunday, described him as a fearless politician who fought for the interest of the common man and his people.
.
He also described him as "a patriot who gave his best towards the peace, unity, and development of Nigeria".
The Statement read in part: "I am most saddened by the news of the passing on of Distinguished Senator Chukwumerije. It is the exit of a lion Senator, brother, friend, brave comrade, seasoned journalist, credible mobiliser, social critic, pro-poor politician, and a legislator per excellence.
"Comrade was a highly principled patriot who detested political excesses and injustice of any form to any people. He was a most detribilised Nigerian who believed that every part of the country deserved the respect, opportunities, and rights intrinsic in their membership of the Nigerian commonwealth.
"He loved his people, Ndigbo, and gave his very best towards protecting their interest and working for the development of the region".
The Deputy President of the Senate said Senator Chukwumerije would be sorely missed by the Senate and the entire nation.
He prayed for the peaceful repose of his soul and inner strength for his family and the entire nation to bear the irreparable loss.