Face-Off In Niger State As Governor Babangida Aliyu Orders Deputy Governor Out Of State Executive Council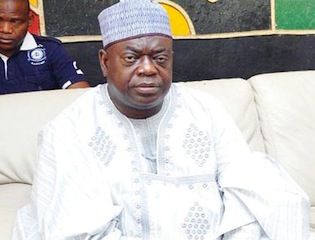 The Niger State Governor, Alhaji Babangida Aliyu has ordered his deputy, Alhaji Ahmed Ibeto, to stop attending the state executive council meetings following his defection from Peoples Democratic Party(PDP) to All Progressives Congress(APC).
According to Aliyu, Ibeto had called him a thief in one of the APC campaign rallies in the state.
The battle line was drawn when Aliyu in his opening remarks before the commencement of the regular weekly state executive council meeting on Wednesday at Government House, Minna, said he would not chair a council where Ibeto would be seated.
The deputy governor was said to have packed his valuables out of the office knowing his boss would not have anything to do with him at the council meeting. In a related development, a statement by the Chief Press Secretary to the governor, Israel Ebije, on Thursday said the Deputy Governor sought and was granted permission to stay away from state executive council meetings, adding that he would have access to all the entitlements of his office.
The statement reads that, "The deputy Governor, Ahmed Musa Ibeto, asked council to excuse him from Wednesday's meeting when issues concerning the general elections were presented. He is now in the opposition and the right thing to d, based on moral grounds, was to leave the meeting. The Deputy Governor is smart enough to realise he cannot sit in council and listen to political strategies of the PDP and be seen either as a mole for the APC or as an unnecessary distraction. It is clear he cannot operate within the reasoning of the PDP-led council, hence, he had to take the most honorable decision."
Reacting to this statement, Ibeto said, "If this statement is coming from government, let me react. It is not true that I excused myself. When I received notification of the council meeting of yesterday(Wednesday), I went as usual. But before the council started, the governor, in his opening remarks, said people and members of the executive council were aware that I had defected from the PDP to APC, and that we had gone on campaign round the state. He said that he had the information and clips that I called him a thief and that he would not preside over the council where I am seated. I objected and explained that I have never called him a thief and that everywhere we go, people always wanted to know why I defected to APC and I have been telling them I left PDP because of the injustice in the party".