Afenifere Predicts Nigeria's 2015 Election Will Be Violent & Unprecedented In The Nation's History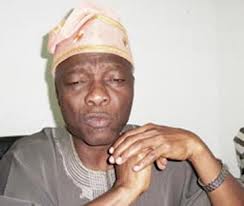 The Afenifere Renewal Group, ARG, says next month's presidential election in Nigeria is laden with potential threats of violence that may be unprecedented in the nation's history.
PM News reports that the group spoke while presenting its Nigeria Democratic Governance Report in Lagos, Southwest Nigeria, themed: Curbing Political Instability and Extravagance, saying that if nothing urgent was done to salvage the situation, danger lurked in the nation.
National Chairman, ARG, Wale Oshun said political stability indicators were almost at zero levels as the "2015 General Elections, especially the presidential election, is already laden with potential threats of violence that may be unprecedented in Nigeria's history.
"Our advice is for the presidency, National Assembly, and all political parties to meet and agree to an exit strategy that embodies peace and upholds democracy. Once again, this report is the voice of reason, a cry from the wilderness. Will Nigeria listen and be saved?"
Oshun argued that Nigeria has since 1999 enjoyed 15 years of uninterrupted democratic regime, but lamented that stability had remained elusive as it has been on a decline, nearing zero level.
"Nigerians must be alarmed by the political stability trend, more than other indicators. It may soon hit zero level. In 2005 when the ranking debuted, Nigeria was ranked 54th under the "Warning" category. But in 2014, Nigeria was ranked 17th, under the "Red Alert" category. This means that Nigeria is three times more fragile than it was barely ten years ago," he stated.
Oshun also contended that the nation is over-governed with a bloated Federal Government, 36 state government bureaucracies, one Federal Capital Territory administration, and 774 Local Government Areas, saying when budgets of all these government tiers were collated, more than 60% of all public expenditure in Nigeria goes to service these bureaucracies that consist of less than 3% of Nigeria's population.
"This high cost of governance is the reason we cannot fund the delivery of critical infrastructure and social programmes. High cost of governance contributes to high cost of doing business, which in turn reduces Nigeria's competitiveness in the global market.
"Unfortunately, current economic realities show that Nigeria can no longer fund these bureaucracies as some states now owe workers as much as four months wages, with no respite in sight. One would not be a Prophet of Doom to say there is a high probability that two-third of states in Nigeria might not be able to pay salaries in 2015.
"This is another threat to political stability as social vices and malfeasances would increase. Nigeria must be restructured, which is why ARG advocates a return to First Republic's regional structure or adoption of the six zones as federating units. The uncontrollable wastage and rapacious corruption in Federal Government necessitates the reduction of Federal Government's share in Revenue Allocation Formula to 35 percent, with maximum devolution of powers to the federating units.
"We must warn here, for the umpteenth time, that granting autonomy to local government administrations is counter-productive in a federal state. Remove LGA from revenue sharing and let each federating unit manage as many LGA as it could. These are recommendation presented by the ARG to the Revenue Mobilisation Allocation and Fiscal Commission (RMAFC) during its 2013 consultative meeting," he argued.
Oshun added that for the nation to move forward, budget implementation must be anchored on accountability and transparency, which were two critical elements lacking in Nigeria's budget process as there is no public-compliant mechanism to monitor execution of contracts, which has become a 'legal' avenue for corruption because the National Assembly, in addition to proving inept in its oversight function, is also a willing collaborator.