"Amaechi Denied Rivers Workers December Salary For Christmas To Fund Buhari's Presidential Campaign"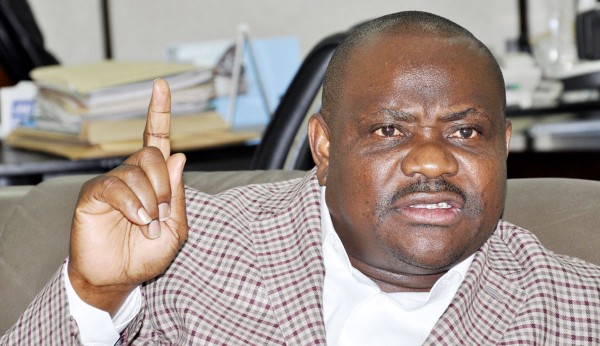 The Former Minister of State for Education and the governorship candidate of the Peoples Democratic Party in Rivers State, Chief Nyesom Wike, has accused the Rivers State Governor, Mr. Rotimi Amaechi, of spending the sum N30 billion to fund the presidential campaign of the All Progressives Congress.
Wike explained that the development had made it impossible for the state government to pay workers' salaries, adding that the governor was using state resources to fund the APC with the hope that he would be picked as the running mate to the APC presidential candidate, Muhammadu Buhari.
Wike pointed out that Amaechi was being deceived by the leadership of the APC to continue to fund the party and added that the APC leadership had never been interested in selecting the governor as Buhari's running mate.
Speaking during his thank you visit to Ikwerre Local Government Area on Thursday, Wike stated that the future of Nigerians was in the PDP and not the APC.
"Do you know why workers' salaries have not been paid? Amaechi spent N30 billion in funding the presidential campaign of the APC. They (APC leadership) allowed him to spend the money and later, they called him mugu (fool).
"They (APC) leadership said we will not make this 'boy' who does not respect the President (Jonathan) the vice president. We should know that our future is in the PDP and not the APC," Wike stressed.
He urged the people of Ikwerre to vote for him and President Goodluck Jonathan, adding that he would review the value of land Amaechi bought from them for the Greater Port Harcourt project.
The former minister decried the statement credited to the APC governorship candidate in the state, Dr. Dakuku Peterside, that he (Peterside) would build on Amaechi's legacy.
According to him, some of the governor's actions on the state judiciary, monorail project were not worth continuing as a legacy.
Wike, however, disclosed that he would unveil his running mate on Tuesday, promising that a woman would emerge as his deputy.