I didn't call for Tinubu's probe over trillions from fuel subsidy — Rep Gagdi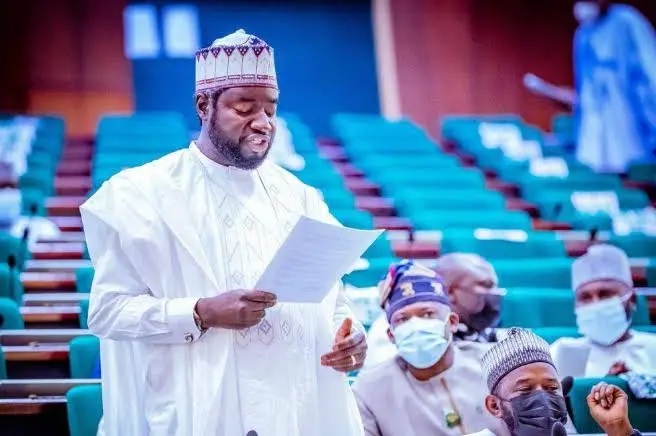 The Chairman, House Committee on Navy, Rep. Yusuf Gagdi (APC-Plateau) has denied calling for a probe of the fuel subsidy removal under President Bola Tinubu.
Gagdi said this in a statement in Abuja on Monday.
"The integrity of the media is very important, therefore, it should not be mortgaged or traded for anything.
"There is a misleading story in some section of the media quoting me to have allegedly said our President, Bola Tinubu, will be probed over the subsidy removal.
"Nothing can be farther than the truth in that news report; I urge the media to be thorough in its reportage and not lose its integrity especially when it involves translation," he said.
Gagdi said he was taken aback at the sensational headline saying that it was aimed at attracting clicks and gain traction.
The lawmaker said that the story was most irresponsible and reckless saying that he had great regard for Tinubu which was why he dropped his speakership ambition when he was directed to do so.
Gagdi urged all and sundry to ignore the mischievous and blackmailing headline and urged media houses to be more circumspect while casting their headlines.
NewsWireNGR recalls that there were reports quoting Gagdi in an interview with BBC Hausa to have said; "I am one of many Nigerians who support the removal of fuel subsidy because I believe it is a form of theft. I swear that the subsidy is not doing any good for poor people of Nigeria.
"In the committee that I chair in the House of Representatives, I have learned a great deal about fuel subsidy. I know who is really benefiting from this subsidy, and it is not the Nigerian people. It is a small number of elites who are using the subsidy to amass wealth for themselves.
"Despite my support for subsidy removal, there will come a time when I will ask Asiwaju (Bola Tinubu), on behalf of the Nigerian people, about the savings from the removal of subsidy. We have been signing for these savings since the Buhari administration, and they have totaled 1, 6, and 10 trillion naira. What will the Nigerian people see physically done with these monies?
"I swear that there will come a time when we will hold the Nigerian government accountable for its actions. We will ask them what they did with these monies.
"If fuel subsidy is removed, the poor should see the results in the form of renovated roads, new schools, new hospitals, and the establishment of new companies. This will create jobs for Nigerians so that they will not have to rely on the government for handouts."